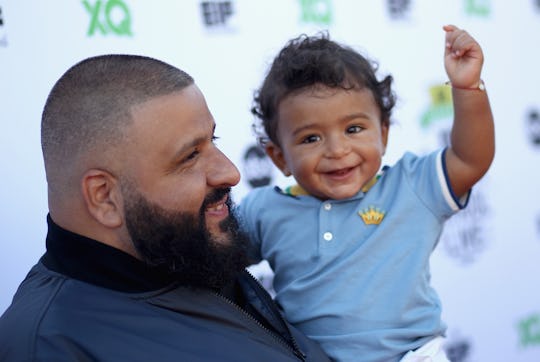 Tommaso Boddi/Getty Images Entertainment/Getty Images
Of Course This Was Asahd Khaled's First Word
There is no denying that DJ Khaled loves his son, Asahd. DJ Khaled loves Asahd more than he loves Snapchat, Instagram, and screaming his own name at the beginning of rap songs — and that says a lot. If you follow the producer on his social media accounts, then you know that Khaled and Asahd are almost always together. So when DJ Khaled revealed what Asahd's first word was, it was incredibly adorable, but it honestly didn't surprise anyone.
Asahd has already accomplished so much in less than a year of life and it is more than I bet I will ever accomplish myself. Since his birth in October of last year, Asahd has already walked the red carpet at multiple awards shows in designer suits, hung out with famous friends, worked as an executive producer on his dad's album, and inspired his dad to fly on an airplane for the first time in years. Talk about an impressive resume.
But perhaps his biggest accomplishment is saying his first word, which has made his father the proudest of all. In a video, posted to his Instagram account on Friday, Khaled documented Asahd saying his first word. And it doesn't shock anyone to know that Asahd's first word was "daddy."
In the video, Asahd can be seen laying on top of Khaled, adorably saying "daddy" into the camera. You can just hear the love for his son in Khaled's voice when he repeats those same words back to him. "When I hear my son's first words it put tears in my eyes," Khaled wrote in the caption. "My son Asahd Khaled I love you so much." Yeah, my heart has melted into a giant puddle just from watching the video and there is nothing you can do about it.
Of course Asahd's first word would be "daddy." Asahd and Khaled are practically attached at the hip. They do so many things together — like taking the stage at award shows to introduce celebrities and riding in private jets. Khaled's love for Asahd is so strong, people on the internet turned his breed of helicopter parenting into a meme. Needless to say, if you expected Asahd's first word to be something like "mama," "bottle," or "private jet" — you were wrong.
But there is a scientific reasoning behind why Asahd's first word was "daddy," and it is partially because he spends every waking moment with Khaled. Science shows that "mama" and "dada" are common first words because "their repetition makes them easier to sound out" and the babies that hear these words experience "heightened activity in the portion of the brain that processes language," according to Yahoo! News. New research published in 2016 found that a baby's first words are motivated by their visual experiences and how they see the world around them, according to The Atlantic. The objects that babies see are most often the first words they say. Therefore by spending so much time with his dad, every single day, it was only a matter of time for Asahd to say "daddy."
Even more proof that Asahd was bound to say "daddy" eventually? A child's first word is said right around the time of their first birthday, according to Parenting, which makes sense in Asahd's case, who turns 1 in a few weeks.
Khaled's mutual love for his son is so heartwarming. From the start, Khaled was a natural father. Khaled told People last year that being a dad to Asahd was easy:
There's nothing hard about it. Every moment I get a chance to be with my son is such an amazing moment. This is something you're supposed to be grateful for and embrace.
It's probably safe to say that Khaled is a lot more grateful now that Asahd is beginning to talk and returning that vocal love for his father.
Watch Romper's new video series, Romper's Doula Diaries:
Check out the entire Romper's Doula Diaries series and other videos on Facebook and the Bustle app across Apple TV, Roku, and Amazon Fire TV.