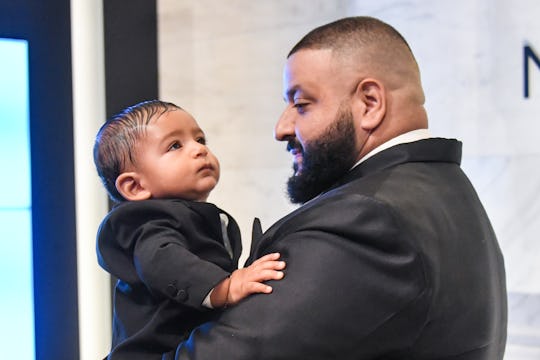 Mike Coppola/Getty Images Entertainment/Getty Images
DJ Khaled Says His Son Helped Him Overcome His Fears
Kids don't know how powerful they are. They may be small and naive but lord, they have some healing properties to them. A parent's life is forever changed for the better once their child comes into it. They will never be the same again. One baby, DJ Khaled's son Asahd, might be one of the most powerful children in the world. In perhaps the sweetest words ever, DJ Khaled said his son helped him overcome his fears, including his fear of flying, which is a huge accomplishment.
What can't Asahd do? At just 10 months old, the little boy has already executively produced a hit album, Grateful, stunned people when he walked the red carpet at awards shows, rang the bell at the New York Stock Exchange, and has more famous friends than you or I will ever have. But his most recent accomplishment might be his best (and most personal) yet. Khaled took to Instagram on Wednesday to share a video message with his 7.4 million followers telling fans a detail that many people might not know — Khaled is (or now, was) afraid of flying. "10 years. Haven't flown in 10 years," Khaled said in the video. "Thats the only thing I had a fear of, was flying. Asahd made me overcome my fear of flying."
In the video, Asahd sits on Khaled's lap, looking overjoyed to be with his devoted father and flying on an airplane. Of course, the airplane is a private plane (some would argue that flying commercial is a much scarier experience) because Asahd and Khaled only deserve the best.
While this might seem like a little thing, long time fans know how much and how long Khaled has been afraid to fly. In 2014, Khaled told hosts of the popular radio show, The Breakfast Club, that he has missed out on millions of dollars and opportunities, like traveling to London and Dubai, because of his fear. "I used to fly every day," Khaled told the hosts, citing the shaking of airplanes and lack of control to lead to his weariness of flying. But Khaled isn't alone in his fear. According to ABC News, aviophobia, or the fear of flying, affects 6.5 percent of the population or more than 20 million people in the United States.
Khaled even had to opportunity to combat his fear of flying with the help of motivational speaker, Tony Robbins, last year. But all it took was Khaled's son to stop his uneasiness and make him truly unafraid of anything. If Asahd is this accomplished at 10 months, I can't wait to see what he does with his future.