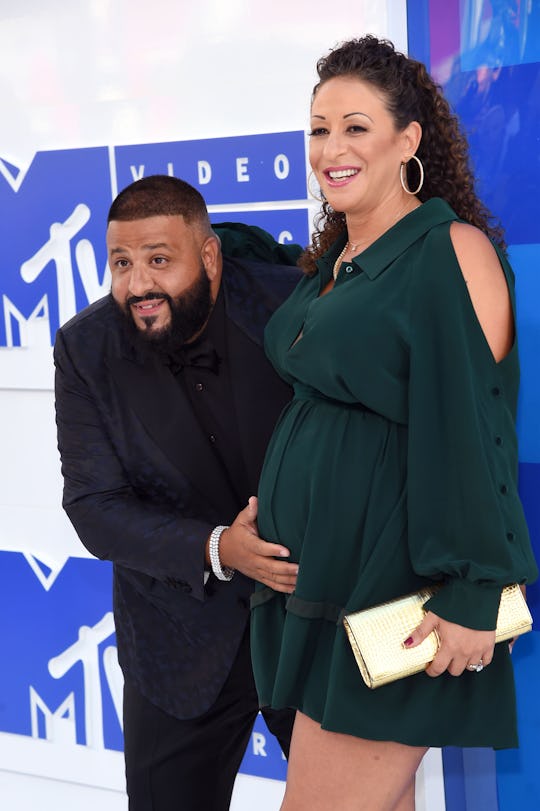 Jamie McCarthy/Getty Images Entertainment/Getty Images
DJ Khaled Snapchatted The Birth Of His Son & People Have A Lot Of Feelings
DJ Khaled is, undoubtably, the King of Snapchat. The record producer and musician has amassed a huge following on the app, where he documents his every day life living as the DJ Khaled. Because the app is such a major part of Khaled's life, it is no surprise that DJ Khaled Snapchatted the birth of his son — and no surprise that his followers have a lot to say about it.
Khaled and his fiancée, Nicole Tuck, welcomed their beautiful baby boy in the early hours of Sunday morning, according to Us Weekly. But Khaled and his fiancée were not the only people to welcome their new baby boy into the world — the millions of followers that watch Khaled's snapchats were there to witness the birth, as well. And those followers witnessed it all (and I mean all) — from the anxious moments in the hospital beforehand to the actual birth of the baby.
This, of course, is to be expected from Khaled — but it's also likely no one expected it to get so detailed. Because of this in-depth documentation on Khaled's Snapchat story, Twitter users reacted accordingly and they had a lot of feelings — from confusion to support for the brand new father. Because really, what else is there to say?
But Khaled's documentation of his son's birth on Snapchat should not come as a surprise to people — because Khaled already warned people that he was going to do just that once the baby was ready. Back in June, Khaled went on Jimmy Kimmel Live! and told host Jimmy Kimmel that he wanted to document the baby's birth:
Actually, I wanna Snapchat the whole birth. The key is that I'm the king and every queen should support the king. I'm a talk to the doctor and if he says everything is going to run smooth... meaning that the queen is right and my son is right, if it's running smooth... I can just do my thing.
Things must have run smoothly, because Khaled definitely did his thing. But just how many people saw the first ever celebrity baby birth documented on Snapchat? According to Bloomberg Business Week, Khaled's snaps garner more views than an episode of The Big Bang Theory and according to Ad Week, his snapchat account alone boasts 6 million followers. Basically, his son had quite the welcoming into this world — not only from his famous father, but his father's followers, too.
For a man with a collection of his own catchphrases coined on his Snapchat and whose snaps garner more views than a popular sitcom, it is only fitting that his son was welcomed into this world by the eyes of millions. In the words of DJ Khaled — bless up.