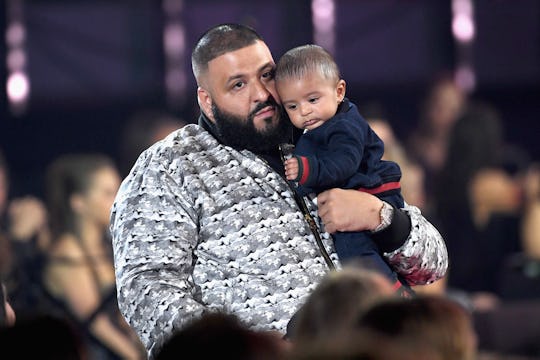 Kevin Winter/Getty Images Entertainment/Getty Images
DJ Khaled's Son Hops On A Private Jet To Visit Dad
DJ Khaled happily welcomed his first child with fiancé Nicole Tuck on Oct. 23, 2016. The music producer famously documented his son's birth in real time on his Snapchat account and has continued to sweetly chronicle Asahd's life on social media over the past five months. Khaled even runs an Instagram account from Asahd's point of view, posting adorable photos of their many adventures together. Asahd's account made a heartwarming reveal about this father-son duo on Saturday: A few photos were posted showing that Asahd had taken a private jet to see Khaled on a business trip — and the 5-month-old looked ridiculously cute, plopped down in the oversized, cushy seats with his toys scattered around him.
The first photo of Asahd living his best life on a private jet was a screen grab of him Face-timing Khaled. "Daddy I'm on my way we got work to do," the caption read. "Thank you for the private jet you smart!" Khaled was in Atlanta on Saturday for a charity event with Champs Sports, as well as making a stop backstage at The LOX's concert. It seems he was missing his son, though, and decided to fly him out for a visit. Asahd's account posted a photo of Khaled reuniting with his baby on the tarmac. "Daddy surprised me and picked me up," the caption accompanying the sweet snap said. "So happy to see daddy!"
This spontaneous trip to see his dad in Atlanta isn't the first time Asahd has been in the spotlight. Khaled frequently brings his son with him to red carpets, award shows, and even the recording studio. Khaled has given his son an executive producing credit on his upcoming album "Grateful," which Asahd's account frequently posts about. A picture of Asahd in a tuxedo was the cover art for Khaled's lead single "Shining," as well. Needless to say, the first five months of Asahd's life have been quite busy.
While Asahd's glamorous adventures on private jets and presenting awards on live television are certainly well documented, his social media presence also highlights Khaled's outstandingly positive parenting style. Khaled is frequently filmed telling his son how much he loves him, as well as giving him constant positive affirmations. Even though Asahd is only 5 months old, Khaled regularly tells him that he's going to be a mogul or that he has the potential to be anything he wants to be. Studies show that giving your children positive affirmations can help them fight low self esteem and feel more confident, and Khaled appears to be a big fan of this particular parenting style, giving his followers an intimate look into how he is raising his own son through his many social media accounts.
We definitely haven't seen the last of Khaled and Asahd. Whether they're traveling the world or just taking cute selfies at home, these two are undeniably adorable. Fans are right to be excited about whatever it is that Khaled and Asahd get up to next.