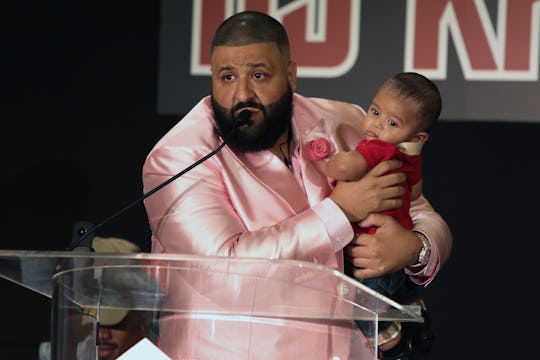 Jerritt Clark/Getty Images Entertainment/Getty Images
DJ Khaled's Infant Son Is Grammys #FashionGoals
DJ Khaled has already featured his infant son Asahd Tuck pretty prominently in his music career: Asahd will be listed as the executive producer on Khaled's upcoming album, Grateful, and the 3-month-old tot has already showed up on the red carpet as his father's events. Now, DJ Khaled's son is dressed up for the Grammys, and you better believe little Asahd is going to be the best-dressed baby in Los Angeles on Sunday night.
Khaled is up for Best Rap Album at the awards show this year, and apparently, dressing to the nines for the Grammys will be a family affair. Khaled posted a video on Saturday of his infant son getting fitted for the world's tiniest suit (okay, not actually, but it's legitimately so little) and Asahd seemed perfectly comfortable throughout the whole ordeal.
"So we've got to shorten the sleeve a little," Khaled said during the video. "Make sure it's a short enough sleeve for his Rolex. Because he's got to show his Rolex. Right, Asahd?"
In response, the bow-tied baby simply stared at his dad throughout the fitting. For a 3-month-old, it was an impressive and downright adorable show of patience. (In all fairness, however, Asahd seems like the happiest baby ever in all of the pictures and videos posted to his Instagram account. And yes, he's already got his own Instagram account.)
Khaled and his wife, Nicole Tuck, welcomed Asahd back in October, and ever since, Khaled has been singing his son's praises. According to Billboard, he recently (and rightly) raved about little Asahd at the ESPN Super Bowl party in Houston. "That's my best friend, and I'm his dad," he said, calling Asahd his "biggest blessing." "So my son, he's the CEO of my company. He's the boss of everything now. He's just learning early, you know what I mean?"
Khaled's Major Key was one of six albums nominated for Best Rap Album at the 2017 Grammy Awards, pitted against albums like Chance the Rapper's Coloring Book, Drake's Views, and Kanye West's The Life of Pablo. The "No New Friends" DJ and producer is facing some stiff competition, but judging by his huge smile as he talks about his son, it looks like he's already won — and according to Billboard, he said just as much when he heard about his nomination.
"I wanna see everybody win," he told Billboard. "The key is love. Love is the answer, love is the key. I want everybody to win. First of all, we all won. We won already. We got nominated. ... Congratulations to everybody."
After all, no matter how things go for him at the Grammys, Khaled will definitely have one tiny, very well-dressed fan cheering him on — and that's what matters, right?