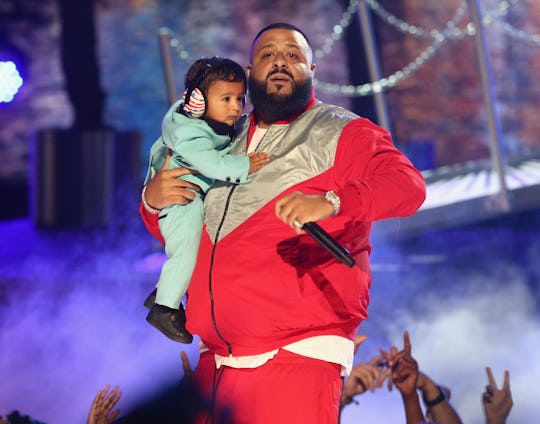 Frederick M. Brown/Getty Images Entertainment/Getty Images
DJ Khaled's Son Met Justin Bieber
He might not even be 1 year old, but music producer DJ Khaled's son, Asahd, is already basically a celebrity. Thanks to a little help from mom and dad, the little boy has an impressive social media following, and it definitely helps that he seems to be the world's happiest baby — he didn't even fuss when his dad brought him onstage during a performance at the BET awards earlier this week. But it seems that even Asahd has his limits: according to TMZ, DJ Khaled's son met Justin Bieber during a video shoot in February, and unfortunately for the Biebs, the usually easy-going baby was not a fan.
At the time of the meeting a few months back, DJ Khaled posted a photo to Asahd's Instagram account showing the singer meeting the baby, and it looked like all went well. But video footage shows that the reality was quite different: after giving Bieber the once-over, baby Asahd promptly burst into tears, and seemed inconsolable. Even if you're not a Belieber, though, you have to feel at least kind of bad for the guy. Getting rejected by an infant is pretty brutal in general, but when the baby is also well-known for never getting upset? That must have been totally mortifying for the Biebs.
What surely makes it even worse though is that Asahd's social media feeds are full of happy snaps of the baby being held by other celebrities. I mean, he and Rihanna are basically besties, and he couldn't have possibly seemed any happier to be held by rapper Nas.
In fact, not only does Asahd also appear to love the dentist (who loves the dentist?!), he even managed to look intrigued while visiting the New York Stock Exchange with his parents, which was probably loud and boring, and seriously, why is this child so chill?
Of course, as awkward as the moment may have felt for Bieber, what the video probably actually suggests is that Asahd is just a normal baby who has normal baby reactions to different people. And it's likely that he's been equally as unimpressed by lots of other people given that he seems to go pretty much everywhere his dad goes these days — especially since a lot of those places must feel pretty overwhelming, even to a kid who seems naturally super happy and sociable. Like most parents who share photos and videos of their kids online, it seems that DJ Khaled just doesn't upload the less-than-adorable moments. And who really needs social media evidence of their kids' meltdowns anyway?
Even if he isn't actually a miraculous infant who never cries, DJ Khaled's son is clearly completely adorable, and it seems like he and his parents are definitely enjoying life as a family. As for Justin Bieber? You have to give the singer credit for at least attempting to pretend like he wasn't completely uncomfortable by the infant's unexpected freak out. After all — let's be honest — no matter how much you want to enjoy it, holding other people's babies can sometimes be the absolute worst.