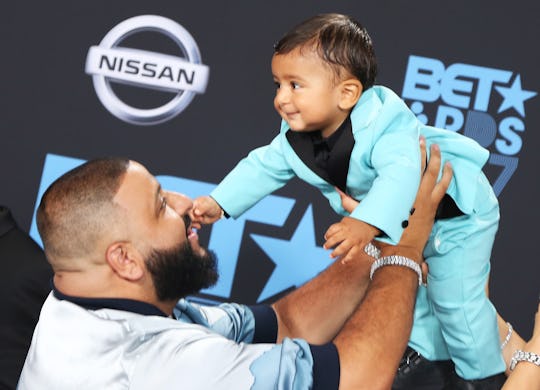 Maury Phillips/Getty Images Entertainment/Getty Images
DJ Khaled's Son Wins The BET Awards In His Tiny Blue Tux
It's not often that you get shown up by a baby, and yet here we are. At the BET Awards on Sunday night, DJ Khaled's son Asahd Tuck Khaled took to the stage during his dad's closing performance, fully clad in a tiny, bright blue tuxedo (and a pair of baby-size noise-cancelling headphones, for obvious reasons). He didn't walk there himself, of course, but the moment was nevertheless far more badass than anything the rest of us will ever experience.
"I love him so much, mommy loves him so much, our whole family loves him and the world loves him," Khaled told Entertainment Tonight's Kevin Frazier of his 8-month-old son on the red carpet earlier in the evening. "God gave me my biggest blessing."
He added,
Me and his mommy always keep him around greatness, we always give him joy. We always give him happiness. We always give him love. The way I was raised, my family brought me around what they do, you know what I'm saying? And I'm bringing him out what me and mommy do.
"Greatness" might be an understatement; The adorable blue tuxedo little Asahd wore to Sunday's award show was custom made by Gucci, as Khaled explained to ET. "Mommy took him to the Gucci store and got Gucci to tailor him up," he said.
Of course, it didn't hurt either that Asahd and hip hop legend Gucci Mane showed up in matching ensembles either.
Asahd may have been "living his best life" as one Twitter user put it, but others were tapped into what was really happening inside the 8-month-old's head.
"Asahd gon' be fed up with this industry by the time he's 2," one viewer joked. "Poor Asahd, he don't know what's going on," another lamented on the little one's behalf.
Others were more concerned with the logistics of keeping tired cranky baby awake so late, only to create a more tired, even crankier baby the next day. "It's past Asahd's bedtime y'all," one Twitter user wrote shortly after Khaled carried him onstage. (Be honest, it was probably past most people's bedtimes at that point, unless you were Khaled, who generally appears to be constantly running at his highest setting.)
It wasn't the first time Asahd graced the big stage with his dad; Back in March, the little one made an appearance at the iHeartRadio Awards to introduce Ed Sheeran. "Y'all make some noise for the executive producer of my new album, Asahd Khaled, my son," Khaled said at the time. (It's true —Asahd is credited as an executive producer on his dad's latest album, Grateful.)
If you didn't feel bad about yourself or your life choices before, you probably do now. And that's OK. We can't all be Asahd. That's just too much star power for anyone else to handle.