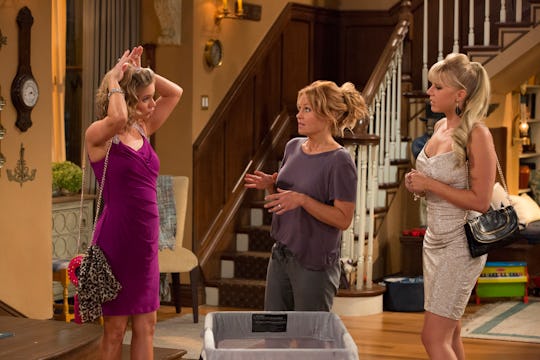 Michael Yarish/Netflix
D.J. & Kimmy Are Referred To As Lesbians On 'Fuller House' — & They're Totally Cool With It
Fuller House is here and fresh with plenty of updates. Back in the '90s, some of the heaviest hitting episodes of Full House tackled issues like teen drinking and smoking. But now that Fuller House takes the Tanners into the 21st century, that means it can take on 21st century issues, too. When D.J. and Kimmy are referred to as "lesbians" towards the end of the third episode, "Funner House," they take it all in stride with 21st century grace, too.
The scene is kind of a weird one: the third episode of Fuller House is focused on getting the very overwhelmed semi-recent widow and mom of three boys, D.J. Tanner-Fuller (played by Candace Cameron Bure), out of the house for a girls' night out. Little sister Stephanie (Jodie Sweetin) and next door neighbor Kimmy Gibbler (Andrea Barber) team up to form the "She Wolf Pack" for a night at club Euphoria. In an uncomfortably long tribute dance-off to Dirty Dancing — with an equally awkward cameo by Grammy-winning singer Macy Gray, D.J. and Kimmy end up re-enacting the famous dance moment. When they win, Gray calls out: "And our winners are these two luscious lesbians! Get up here you sexy people!"
Of course, D.J. and Kimmy run up to the stage, more thrilled that Macy Gray just called them "sexy people" — but they also don't correct her, either. This is actually kind of a big deal, for a few reasons. The original Full House never really did feature any prominently lesbian or gay characters in its original run, despite taking place in San Francisco. And glaringly so, as there are still no major LGBT characters featured in Fuller House, either. Although Full House did receive criticism back in the day about the "house with three dads" premise.
During its original run, and again on Netflix, Fuller House doesn't shy away from its classic "Full House lesson at the end of the episode" moments. If there was ever going to be an LGBT issue featured on Full House back in the '90s, you better believe it would have gotten the full sappy music "so-and-so is just like regular people" treatment. But it's 2016! Marriage equality is a thing. LGBT characters have become less and less token stereotypes and instead are just as "normal" as any other sitcom character — think Modern Family, Transparent, and even Brooklyn Nine-Nine.
The fact that D.J. and Kimmy don't even bother to correct Macy Gray for calling them lesbians says a lot. Full House took plenty of '90s issues in stide, so LGBT issues in 2016 is no different in Fuller House. And who knows: If Fuller House gets a second season, there's plenty of plot room to make a full-fledged LGBT story line a possibility and give it the proper Fuller House treatment we've been waiting for.