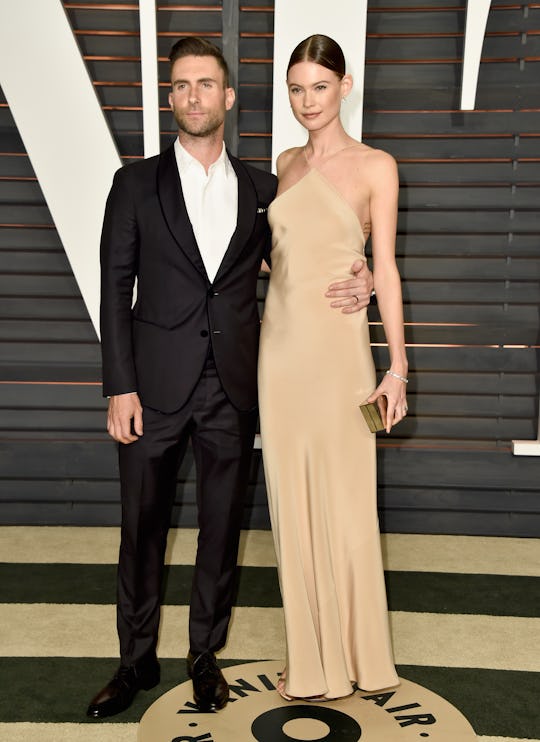 Pascal Le Segretain/Getty Images Entertainment/Getty Images
Do Adam Levine & Behati Prinsloo Want More Kids? Dusty Rose Will Definitely Have Siblings
It's only been three weeks since their first child, Dusty Rose, made her way into the world, but from the sounds of it, she won't be an only child for long. Do Adam Levine and Behati Prinsloo want more kids? Prinsloo hasn't spoken on the matter, and the couple has been mostly quiet during their adjustment to new parenthood, according to TODAY. But judging by her husband's comments, the answer is most definitely yes. After the news of Prinsloo's pregnancy went public earlier this year, Levine told E! News that he was ready for a whole brood of kids, and said he wanted, "like 17. Is that reasonable? I love kids so much, though." And it turns out Levine has dreamed of fatherhood for a long time: shortly after he and Prinsloo got married in 2014, he told People he wanted "to have 100 kids," adding that he wanted "to have more kids than is socially responsible." Well, you can't fault his enthusiasm!
Of course, the rigors of new parenthood might make the ridiculously good-looking couple think twice about wanting a super-sized family, but then again, so far it sounds like they are totally loving it. In an interview with Ryan Seacrest Thursday, Levine spoke about what fatherhood has been like so far and admitted, "I don't know anything, but it's part of the beauty of it, honestly," according to TODAY.
Levine also pointed out that, while mothers are usually the ones expected to naturally take to motherhood after childbirth thanks to hormones and so-called maternal instincts, dads can totally experience that too. He told Seacrest, "there are a lot of instincts, a lot of things that kick in and switch on. It's a beautiful experience."
It's pretty clear that so far, fatherhood is definitely as awesome as Levine expected it to be, and honestly, he sounds like a total natural. But then again, Levine already hinted at what kind of devoted dad he would be during his wife's pregnancy, sharing sweet snaps of the mom-to-be on social media.
The couple hasn't shared many details on Dusty Rose's birth, but according to The Daily Mail, it sounded like an emotional experience for both of them. A source close to the couple told E! News, "Adam was in the delivery room holding Behati's hands. They both cried when she was born ... [Dusty Rose] is beautiful. She looks like Behati."
From the sounds of it, Levine and Prinsloo's first few weeks of parenthood to baby Dusty Rose have been pretty idyllic, and it's nice to hear updates straight from Levine himself. It's anyone's guess whether the couple will want to have more children right away, but one thing that seems for sure? Levine is every inch the devoted dad he always thought he'd be.