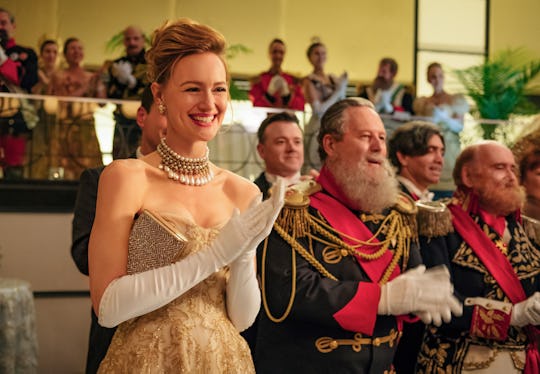 Jan Thijs/Amazon
The List Of Romanoff Descendants Includes Some Surprising Celebrities
Amazon's new series, The Romanoffs, comes from Mad Men creator Matthew Weiner and follows a group of unconnected people from all over the world who claimed to be descendants of the Russian royal family, the Romanoffs. The premise isn't all that unbelievable, so naturally people are wondering, do any descendants of the Romanffs really exist? You might be surprised.
There is one popular family that you might not have expected to be linked to the fallen Russian dynasty. According to Town & Country, the Duke of Edinburgh, Prince Philip (Queen Elizabeth II's husband) is the great-great-grandson of Russian Tsar Nicolas I. This means that his son Prince Charles, and grandsons Prince William and Prince Harry, are descendants of the Romanoff family as well. Queen Elizabeth's cousin, Prince Michael of Kent is also related to the Romanoffs through his grandmother.
The reign of the Romanoff (also spelled Romanov) Dynasty lasted nearly 300 years, but ended in 1918 when the Tsar, Nicholas II, his wife Alexandra, and their five children - Olga, Tatiana, Maria, Anastasia, and Alexei — were murdered by a Bolshevik firing squad amidst the revolution. Initially, the assassination was kept secret, and rumors swirled of some kids surviving, most notably Anastasia, who became the subject of numerous works of fiction. However, the remains of the royal family were found in 1991, and DNA from Prince Philip and Prince Michael was used to identify them.
There are other well-known descendants of the Romanoff family, and many of them come from the line of Russian Empress Catherine The Great and her grandson, Nicolas I. Many of the well-known Romanoff descendants still hold titles of nobility in other European countries because their ancestors married into other royal families. According to Town & Country, the Duke of Westminster Hugh Grosvenor, King Constantine II of Greece, Grand Duchess Maria Vladimirovna, Grand Duke George Mikhailovich, Princess Olga Andreevna Romanoff and her four children are all descendants of the Russian royal family. Italian actress and jewelry designer Nicoletta Romanoff is the great-great-great-great-granddaughter of Nicholas I and Illinois-born Prince Rostislav Romanov is the great-grand-nephew of Nicholas II.
While many of these names are associated with royalty in one form or the other, there have been plenty of people who have claimed their link to the royal family over the years. The most famous imposter was Anna Anderson, a Polish woman who claimed to be Nicholas I's young daughter, Anastasia. According to Time, most of the Tsar's family rebuked her claims, but she did find support among some of the royal family's supporters. Her story of being rescued and escaping spawned many fictional stories, including the 1956 Ingrid Bergman film, Anastasia, and the animated Disney film of the same name.
When the remains of all five of Nicholas I's children were found in 1990, Anderson's claims were finally proven false. Now that DNA and genealogy testing is so readily available, it's much easier to tell which claims to the Romanoff line are true or false, but I don't think it will ever stop people from self-aggrandizing TBH.
This claim to fame is what inspired Weiner to create The Romanoffs. In an interview with The Upcoming, the writer revealed that over 120 people have publicly, yet falsely claimed that they were descendants to the Romanoff family over the last 100 years. He explained that this desire to be special in a connected but isolated world was something he wanted to explore through the series. "The royal family has been the subject of over a 100 movies, books, and stories, and they have so much cache as royalty does, that it's an instant celebrity to be a part of them," said Weiner. "[Do] they want to be kings and queens? Maybe they just want to be treated differently." Weiner will tackle these issues of identity in The Romanoffs, and he's using a huge lineup of stars through eight individual stories to do it.
The series premieres on Amazon Prime Video on Oct. 12.