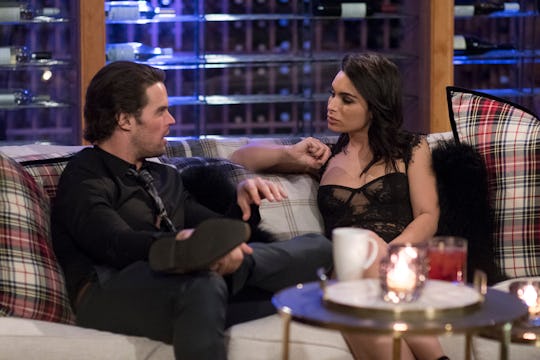 Lorenzo Bevilaqua/ABC
Things Could Heat Up For Ashley I. & Kevin In The 'Winter Games' Fantasy Suite
Bachelor producers know what viewers want and damn it, they always give it to them. On the promo for Thursday's finale of The Bachelor Winter Games, it shows that some couples — including Kevin and Ashley I. — go to the highly anticipated fantasy suite as a way to get to know each other better. But do Ashley I. and Kevin have sex in The Bachelor Winter Games fantasy suite? The teaser was heavily hints at a number of hookups, including them.
Now, for longtime members of Bachelor Nation, this question could be a big deal. This is because Ashley I. is notorious for being a virgin. Being a virgin is, of course, not a big deal, but Ashley does make a habit of always mentioning it whenever she's on a Bachelor show — and even on her podcast — so it's sort of become what she's known for.
Ashley I. first appeared on Season 19 of The Bachelor, vying for the love of Chris Soules. This may be obvious, but she didn't end up getting the final rose. What did happen, though, was she kept appearing on seasons of Bachelor in Paradise trying to find love. Each time, she was unsuccessful. All the while, she would remind viewers that she remains a virgin by choice.
That's, of course, her choice and viewers don't have a say in it, but she has said it's made her dating life more difficult. In a piece she wrote for HingeIRL, Ashley I. talked about dating as a virgin. "Not to sound like Carrie Bradshaw, but I can't help but wonder why so many of my gorgeous guy friends (#BachelorFamilyProblems) have a blast with me, but choose to date (or at least hookup with) girls who kind of have less personality than me, or aren't conversational as me, but are perceived to be sexier," she wrote. "It makes me feel like sh*t. It makes me feel undesirable. Do you have to have sex to be desirable? Maybe I should have just lived back in the olden times when virgins were the ones that were put on a pedestal."
I have to say, this does make me feel for Ashley (though I'm not a huge fan of her idealizing a time where "virgins were on a pedestal"). Regardless, it seems that her choice has put a strain on her relationships. On The Bachelor Winter Games, though, she seems closer than ever to finding love. At first, Kevin and Bibiana seemed like a close couple, but it soon became clear that Kevin and Ashley made a better pair (but don't worry, Bibiana is happy with another contestant, Jordan).
The trailer dropped major hints that not only do Kevin and Ashley I. go to the fantasy suite, but they sleep together. Is it true? Well, it's not really the audience's place to know such intimate events in their relationship. I know this is the same show where Nick Viall said he "made love" with Andi Dorfman, but not everyone is that open about their sex life.
This is just a prediction, but I don't think they do. The promo is making it seem way too obvious that they do, which makes me think it's a total fake out. But again, who really cares? What matters most is that they're happy with their relationship. The two seem to have great chemistry and this is the happiest I've ever seen Ashley on a Bachelor show (she still cries, but much less!), so I think she and Kevin make a great couple.
Thursday's episode is the finale, so Bachelor Nation will see if they will make it past Vermont. Whether the fantasy suite results in them consummating their relationship, I'm sure it wouldn't be the determining factor if they stay together or not.
Check out Romper's new video series, Romper's Doula Diaries:
Watch full episodes of Romper's Doula Diaries on Facebook Watch.