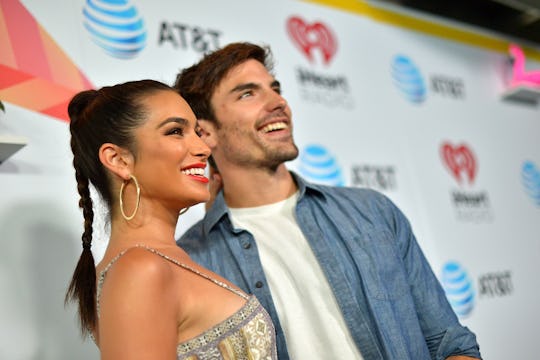 Charley Gallay/Getty Images Entertainment/Getty Images
'BiP' Alums Ashley Iaconetti & Jared Haibon Definitely Have Babies On The Brain
Bachelor Nation has been rejoicing ever since they heard the news that not only are they together — finally — but that Ashley Iaconetti and Jared Haibon are officially engaged to be married. But it sounds like they have more on their minds other than wedding planning. Indeed, Ashley Iaconetti and Jared Haibon revealed that they want kids in a recent interview and how many they hope to have one day.
Iaconetti and Haibon's romance has been a wild one to follow, to say the least. As People reported, Iaconetti and Haibon initially met three years ago on the second season of Bachelor in Paradise back in 2015. But it wasn't exactly smooth sailing at first. According to People, Iaconetti fell pretty hard for Haibon at first, but the feelings weren't completely mutual. So, for the time being, the two just stayed friends.
Then, this past winter, Iaconetti appeared on the first season of The Bachelor: Winter Games, and it seemed like she and Kevin Wendt were a real thing. However, the two split up in March and it seemed like Iaconetti was just taking some time for herself following their breakup. Not long after that, though, she and Haibon shocked Bachelor Nation when they announced their relationship at the end of May, according to People.
And just this week, they announced their engagement news and both Iaconetti and Haibon took to their respective social media accounts to post photos from the sweet proposal moment on the beach. And, since then, there haven't been any signs of the two slowing down anytime soon.
In fact, according to Us Weekly, the couple is looking forward to their future together and that might just include kids. Speaking to Us Weekly on Wednesday, Iaconetti said, "We talk about the future a lot." When she was asked how many kids they wanted down the line, she replied: "Two to three, but we'll decide after two."
Aside from thinking about their future family together, the two are also working on their wedding plans, something that Iaconetti definitely seems to be taking the lead on. "I'm a little bit more controlling and I'm definitely the planner of the two of us, but everything will be approved by him. I think he'll actually be pretty into it," the 30-year-old told Us Weekly.
Hopefully, the couple's wedding will be a day to never forget And Iaconetti's friend, fellow Bachelor alum, Nick Viall, told People that their special day might play out a lot differently than what Bachelor Nation has seen of the bride-to-be on TV. "I think she'll be a really kind of mild bride, I really do," Viall told the publication. "Ashley, for all of her crying and emotions, she's very intelligent and very determined. She actually can be very chill under pressure when she needs to be."
So as Iaconetti and Haibon prepare for their big day, and what lies beyond that, it's pretty apparent that they're on the same page. In fact, the same day that Iaconetti told Us Weekly that she and Haibon were looking forward to starting their own family, her future husband uploaded an adorable photo of the couple holding their friend's baby, with the caption, "@emmy_tolbert makes me want to have babies."
In the photo, Iaconetti and Haibon are grinning wide while holding another successful Bachelor in Paradise's couple's baby girl —  Jade and Tanner Tolbert's adorable daughter, Emerson Avery.
Whatever the future holds of Iaconetti and Haibon, it's clear that they really are a happy couple together and it'll be exciting to watch them as their relationship moves forward.