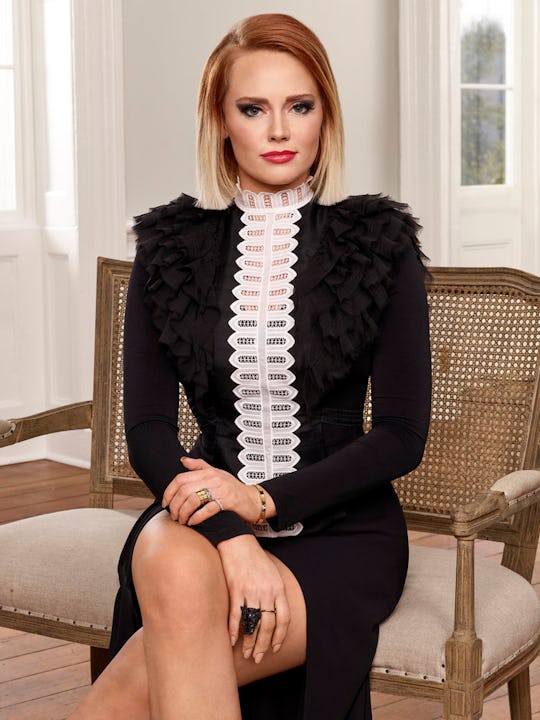 Rodolfo Martinez/Bravo
There's No Love Lost Between Ashley & Kathryn On 'Southern Charm'
The fifth season of Southern Charm is finally here, and Thomas Ravenel has a new girlfriend named Ashley Jacobs. Everyone familiar with the show is expecting fireworks between her and Thomas's ex-girlfriend and mother of his children, Kathryn Dennis. So if you were wondering do Ashley and Kathryn get along on Southern Charm, the answer is that they get along about as well as you might expect. Yeah, these two women will probably never become best friends — unless perhaps Ashley and Thomas break up some day.
The Kathryn and Thomas saga has spanned the show's entire five seasons, with the two of them getting together, breaking up, and occasionally getting pregnant about once a year. But now they are definitely over because Thomas seems very serious about Ashley, a nurse who moved from California to Charleston to be with him. The show's first episode started at the beginning, with a showdown between the two women outside of some sort of fancy gala. The confrontation has already been teased on the Bravo site, but everyone familiar with Kathryn's personality could have guessed that it was kind of inevitable. From their very first meeting, as was shown in the first episode, things were nothing short of icy between the two women.
The two met at Shep's birthday barbecue, where Kathryn learned apparently for the first time that Ashley existed, had moved to Charleston for Thomas, and had already met her children. I'm not saying that Kathryn always takes the most measured approach to conflict, but that is enough to bowl anyone over. To her credit, Kathryn kept her cool throughout the whole interaction. "We've got Thomas here with his new girl. And so far nothing's been thrown," observed the group's friend JD before a quick montage of all of Kathryn's best moments. "Knock on wood," replied Cameran. But all Kathryn said was, "This is a little... catching me off-guard," before saying politely, "Happy to meet you." Phew.
But everyone knows that things go pretty far downhill from there. The previews hint of at least one more heated argument between the two, which appears to take place on a boat, before their big blow out at said fancy party. During this exchange, Ashley seems to try to start out civilly by saying, "I hope some day we'll be cool." But Kathryn shoots right back with, "We'll never be cool because you'll be gone in a week." It all sort of spirals from there. Ashley calls Kathryn a "baby mama" and an "egg donor" and Kathryn calls Ashley an "entitled gold-digger." Oof.
Suffice it to say that these two women are not exactly close. It hardly bares mentioning but obviously neither woman shows up on the other's social media pages, and it doesn't look like they hang out that much. But on a happier note, after several seasons of Kathryn struggling, it looks like she's finally on some good footing with the rest of the group. She's been sober for over a year and has a custody agreement with Thomas over their two children. And frankly, it's understandable if Kathryn doesn't want to be best friends with the father of her children's new girlfriend.
I am, however, extremely curious to learn what precisely it was that Ashley did that crossed the line. Kathryn says, "As a mother, f*ck you," which are some serious fighting words even for Kathryn. So what was it? Congratulations, Bravo, I'm already hooked and will be watching this season primarily to hear the shade Kathryn will be throwing at Ashley.
Check out Romper's new video series, Romper's Doula Diaries:
Watch full episodes of Romper's Doula Diaries on Facebook Watch.