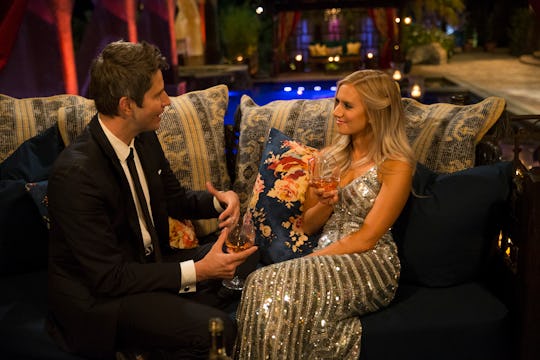 Paul Hebert/ABC
Do Becca & Lauren B. Get Along On 'The Bachelor'? Things Could Get Awkward
I'll be real with you guys. I'm convinced that the real love that comes out of any Bachelor season is the friendships made between the women on the show. Which leads me to this question: Do Becca and Lauren B. get along on The Bachelor? To be fair, a friendship between two women sharing a boyfriend has got to have its fair share of awkwardness. Particularly if the boyfriend in question has led both women to believe that they are the only love of his life. Honestly, it's kind of hard to tell if these two get along at all.
Clearly on this season of The Bachelor, many women have formed close friendships. Jacqueline and Kendall are apparently besties, which I love. I mean just look at how hard Kendall cried when Jacqueline left the show — on Twitter Jacqueline even claimed Kendall cried harder when she left than when Arie eliminated her. Becca has also apparently formed close friendships with Caroline and other women on the show. And both women interact often with their Bachelor costars, as well as post pictures of themselves together. If I was to go on this show I would definitely be there to "make friends." But what about Lauren and Becca?
Clearly they are the women with the strongest feelings for Arie, and Arie obviously has the strongest feelings for both of them, as his final two. So it's pretty understandable if they don't feel like being best friends. From everything I've been able to observe on the show and on their social media accounts, they don't seem to actively dislike each other. But they don't appear to be extremely close to one another either. This is totally fair, in my humble opinion. I'm just glad nobody has posted anything actively unkind about the other.
Judging solely by their social media activity, Becca appears to have formed good friendships with Caroline, Bekah M., Tia, and Ashley in particular, if only because she often posts photos from the show of herself hanging out a lot with these ladies. Caroline and Ashley didn't get nearly the screen-time as the other women on the show, but at least they walked away with some friendships. Becca captioned one of the photos with a reference to the movie Step Brothers, "Did we just become best friends?" The next photo in the series zooms into her holding hands with Caroline. That is a real love story, guys.
As for Lauren B., she also posts pictures on her Instagram of herself with the other women on the show, though not quite as often as Becca does. I'm inclined to believe this is mostly because her Instagram includes more professional photos than snapshots, and because she doesn't post quite as often. But based on a couple of what looks like professionally shot photos with Jacqueline, apparently the two of them have grown close after the show as well. Lauren captioned the cute shots "Just a couple of VA girls," (because both women are from Virginia).
Notably, neither Becca nor Lauren has included any pictures on their social media accounts with the other. This doesn't necessarily mean they are enemies, but it does point to them not being best friends either. And that's fine. Not everybody has to be best friends with everybody, you know. Frankly, considering the situation, I think it's amazing that anyone becomes friends after all of this at all. In any case, I bet everyone will learn a lot more about everyone's relationship status, friendly or otherwise, come the sure-to-be explosive season finale. Personally, I cannot wait.
Check out Romper's new video series, Romper's Doula Diaries:
Watch full episodes of Romper's Doula Diaries on Facebook Watch.