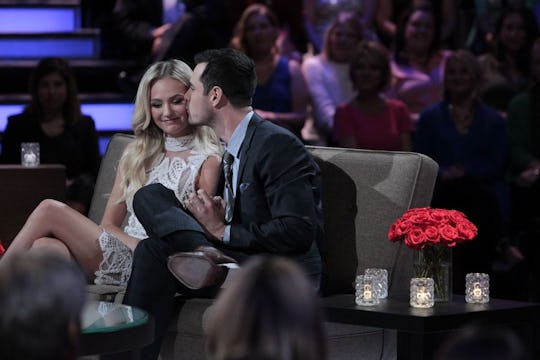 Rick Rowell/ABC
Do Ben Higgins & Lauren Bushnell Want Kids? The 'Bachelor' Couple Is Excited To Start A Family
Now that all of the dust has settled, Lauren Bushnell and Ben Higgins, the happy Bachelor couple, are able to return to a relatively normal life. Since filming for The Bachelor began, the two have either been surrounded by cameras — and 20 other women — or been confined to secret meet-ups away from the public. Now, they get to live like a normal couple, move in together in Denver, and start their life. So, does that life mean little Laurens and Bens running around? The Ben and Lauren recently spoke about having kids post-Bachelor, and fans of the couple will not be disappointed with what they had to say about their future family.
The couple has spent their first few days as a "public couple" doing press for the show and speaking to many outlets about their future together and their time on the show. Clearly, the baby question came up. In an interview with ABC News, Ben and Lauren both announced that they do want to have kids. They've even agreed on a magic number, which is a great start to their relationship. In the interview, Lauren said she wants to have three kids, and Ben "agreed. Just to be safe." Smart man.
While the couple has previously said that they want to move relatively quickly into a wedding — if it were up to Chris Harrison, this would have happened on After the Final Rose — they want to take a little time together before growing their family. In their ABC News interview, Lauren said that the couple "really enjoys each other," and they want to live a life and get married prior to welcoming a new addition to the family.
Lauren did say that she would be up for growing their family with a dog — seems like a good start to me!
In the meantime, Lauren said at After the Final Rose that she has plans to move to Denver with her new fiancé. The couple seems very ready to move forward with their life and out of the spotlight of fame and cameras, which seems promising for their success. Good luck, you two. I'm happy to give baby name suggestions when the time comes.