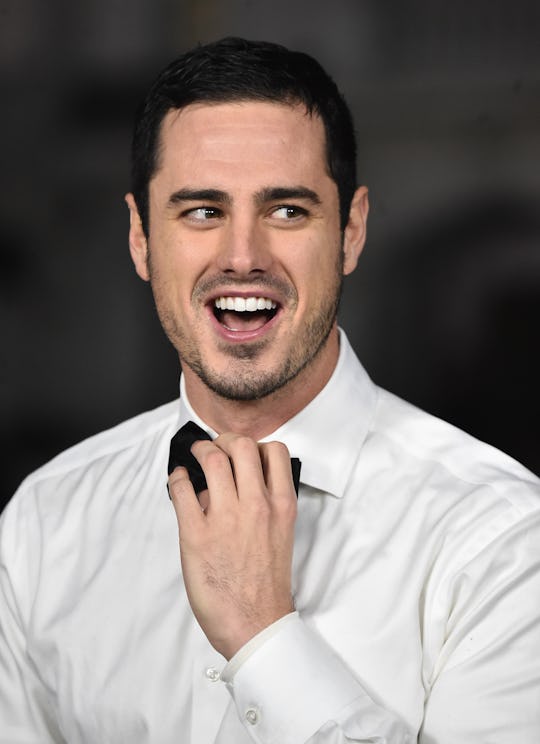 Alberto E. Rodriguez/Getty Images Entertainment/Getty Images
Do Ben's Parents Want JoJo To Win? It Kinda Seems Like They Do
Tonight's season finale of ABC's hit reality TV series The Bachelor is a true nail-biter, and amidst all the "I love two women!" drama, many viewers are asking: Do Ben's parents want JoJo to win? Because honestly, sometimes it comes down to the blessing of siblings and parents (and 24-year-old contestant JoJo Fletcher's brothers' verbal smackdown of Ben a few weeks ago didn't exactly do anyone any favors).
For one, let's be clear that Ben's mom — who seems awesome, by the way — does not seem on-board with the whole Bachelor-style dating multiple people thing. When Ben tells his parents that he's in love with two women, she looks shellshocked, and then admits in the confessional that the idea of Ben being in love with two women is "downright disturbing to me."
Ben, meanwhile, seems deeply psyched about 25-year-old flight attendant Lauren Bushnell, who he describes as "gorgeous and sweet" to his parents. Later, when Ben's mom talks one-on-one with Lauren, Ben's mom brings up the fact that Ben sometimes "can get pretty intense," and sometimes needs people to "talk him off the ledge." At that, Lauren looks a bit... confused. And, frankly, Ben's mom looks skeptical that Lauren can talk anybody off a sidewalk, let alone a ledge.
Let's contrast this with JoJo's meeting with Ben's parents, during which JoJo is extremely nervous. "Today's the day that I could be meeting my future mother- and father-in-law," a terrified-looking JoJo says. But Ben is quick to quell the tension. He tells his parents that "I have moments with her where, like, I'll never forget them," he tells his parents. Not exactly eloquent, but Ben isn't known for his way with words.
Ben's dad says that "Lauren set that bar pretty high" when he met her the day before. Luckily for JoJo, her conversation with Ben's dad goes really well. She tears up during the conversation, and Ben's dad appears really taken with her level of emotion. The one-on-one conversation with Ben's mom goes even better. You can tell by the look on her face alone that she's getting along better with JoJo. "I could tell right off the bat that he thinks you're amazing," Ben's mom assures JoJo.
After meeting with both women, it is not clear where Ben's dad stands. He compliments Lauren by saying that she is "very polished" and a "great gal." But apparently not one to mince words, Ben's mom straight-up tells the confessional that "it did feel different today," comparing her time with JoJo to her previous meeting with Lauren. It seems like Ben's mom has pretty much made up her mind that JoJo is a winner.
Still, when Ben sits down with his parents, his mom doesn't admit to having a favorite. She tells him that "Everything about both of them was so wonderful." Later, she tells the confessional that "I really hope that he'll choose the right one."
Us too, Ben's mom. Us too.