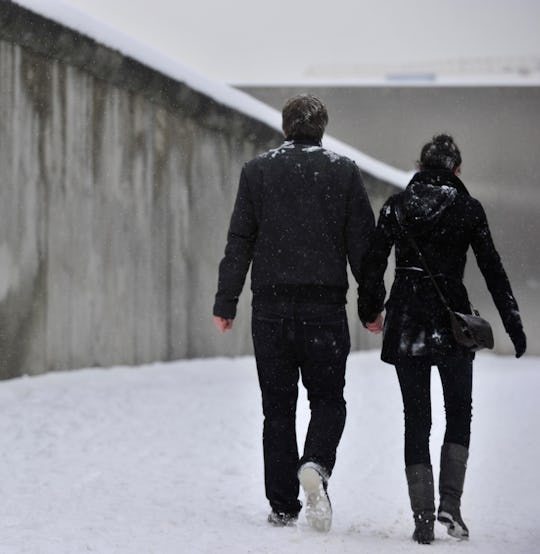 John MacDougall/AFP/Getty Images
Do Blizzards Increase Hook-Ups? Winter Storm Jonas Could Bring Romance To Your Doorstep
If you haven't yet heard, a major blizzard is slated to hit the Northeast this weekend as Winter Storm Jonas descends upon Washington D.C., Baltimore, Philadelphia, and New York, leaving thousands to chill. As in blizzard and chill. Which just proves that people will use anything to ask the Internet for snuggle buddy. The Daily Dot this week even pointed out that people were posting personals on Craigslist for blizzard sex. Hey, no one's judging here. All of this begs the question: Do blizzards really increase hook-ups?
It's entirely possible. With the predicted blizzard hitting states from Northern Virginia up through parts of New York, Storm Jonas officially ushers in cuffing season — which, for those of you who are unfamiliar with Fabolous's 2013 track, "Cuffin' Season", is that time of year when the temperature drops low enough that people want to get in bed and cuddle.
People who like to plan things, take a cue from winter's dark afternoons and windy nights to procure a cuddle buddy before the storm hits. This way, by the time the blizzard sweeps into town, you've got a special someone to hunker down with and eat macaroni and cheese. And if something goes wrong, well, you've got a partner for the end of the world too.
Kidding, of course! In reality, storms do bring the potential of danger, but that's all the more reason you need someone to cozy up to — and that's what's so exciting and romantic about blizzard and chill. Right?
Of course, scrolling through all those Craigslist blizzard hook-up ads kind of killed the romance for me. One "m4w" (that's "man seeking woman", I'm assuming) from Allentown, Pennsylvania posted, "I have plenty of food, wine, liquor and entertainment lol." What's with the "lol", dude? You're not exactly selling confidence. What are you going to do if the electricity goes out?
Another "m4w" from the nation's capital wrote in a now deleted post,
Any hot and sexy ladies need a nice hot guy to keep them warm during the blizzard? I'm available. We can party and f--k all day and night long.
Succinct, buddy. Where's the romance?
Where's the Channing Tatum (as Elsa, of course)?
Where's this?
Even if blizzards don't statistically increase hook-ups — and it seems like they should — there are plenty of ways you can go about it without feeling like you're the only one doing it. After all, you've got quite an amazing backdrop for romance: the quiet of the storm, the freshness of the snow, the clear sky, a reason to build a fire. Perfect. There's something special about times when life in your city or town comes to a halt. You remember those times. You savor those times, because they're almost like stealing time.
However, the whole "blizzard baby" phenomenon associated with all that blizzard coupling? It definitely doesn't exist. As Raymond Sandler, director of labor and delivery at Mount Sinai Hospital, joked to The Village Voice last year, "I don't think that there is anybody in their right mind who is going to decide to have a child based on the fact that there's a blizzard outside — It just defies the normal decision-making process." Plus, the author noted, "contraceptives still work when it's snowing."
Maybe inclement weather does make you crave touch. Maybe you do need a little excuse for bad behavior, whatever that means. And, really, who can argue with that?
By the way, if you find yourself alone during the big storm, you can always have an affair with Game of Thrones and live vicariously through Ygritte. Sigh.
Images: John MacDougall/AFP/Getty Images; Giphy (4)