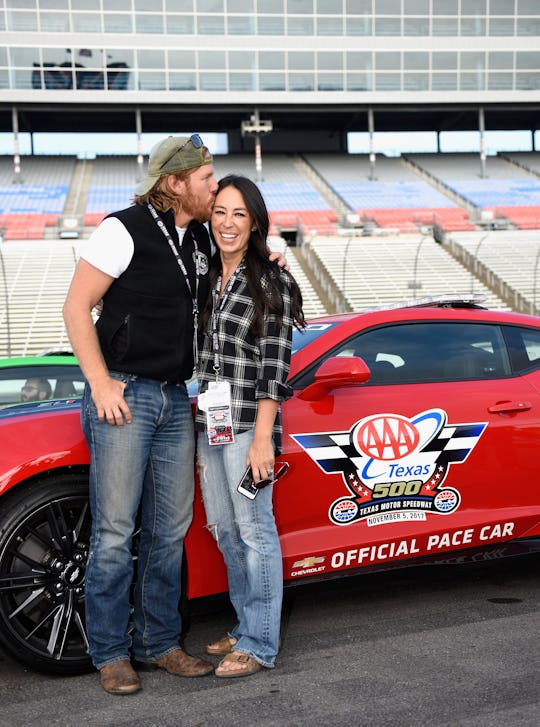 Jared C. Tilton/Getty Images Sport/Getty Images
It Sounds Like Chip & Joanna Gaines *May* Be Open To Having More Kids After Baby No. 5
If there's one couple that has indisputably taken over the HGTV universe, it's Chip and Joanna Gaines — mostly thanks to their adorable family and sweet moments with each other captured on camera. And their sweet brood is about to get even bigger, now that the Fixer Upper couple is currently expecting their fifth child together. Given all of this excitement, fans might be wondering if Chip and Joanna Gaines want more kids after they welcome their newest member in a matter of months. Well, as it turns out, this bundle of joy might not be their last go at parenthood.
Fans of Fixer Upper know that Chip and Joanna are already parents to four kids with one more on the way. There's 9-year-old Duke, 13-year-old Drake, 8-year-old Emmie Kay, and 11-year-old Ella Rose, as People noted. In January, the couple announced that Joanna was pregnant with the couple's fifth child — a baby boy! — and every update they shared with fans since then makes it all the more obvious that their entire family can't wait for the baby-to-be to arrive.
When it comes to adding more their brood, the mom of four (soon-to-be five) hinted in an interview with People that another Gaines baby could possibly be in the family's future. "I joke with my friends that I'm going to be that 45-year-old who's pregnant," Joanna told People. "Chip is such a kid at heart and we both love a big family. I'm open to whatever. I'm just having fun with it."
So, could a sixth child be on the horizon? It's hard to say, of course, since they're still anticipating the arrival of their fifth, but both Chip and Joanna seem to love being parents to their kids now and it seems that they're both open to the idea of a bigger family. For now, though, the happy couple is simply enjoying this time together with their children and are excite for their next chapter.
"I had four kids aged 4 and under," Joanna told People. "There were so many diapers, and it was chaos. Those years just flew because there was so much happening in the moment. I feel like I can really take this one in and relish these moments."
Truly, the Gaines family is a busy one. Not only are both mom and dad working parents, but the family also recently opened up a restaurant, Magnolia Table, to top off their empire in Waco, Texas. So it's safe to say that things in the Gaines' household are probably a little hectic at the moment.
But, in the midst of all the chaos, the HGTV stars still manage to keep their fans updated on this exciting time in their lives. When asked about how her four older children were handing the fact that their mom was pregnant with another baby, Joanna recently told People, "Every single time they see my belly they have to rub it." She continued, "I think it's sweet because they're older now, and I can see them wanting to be a part of this. We're all rallying around this baby, which I feel is a sweet gift to our family."
Whether Chip and Joanna decide to add any more kids to their family is a personal decision, but it sounds like they'll keep fans in the loop. Especially since the last episode of Fixer Upper aired almost a month ago and fans have to check the couple's social media to see what they're up to, any update is more than welcome. What's more, Chip did a bit of hinting on the subject himself in a recent interview with The Today Show, saying that their boy on the way is "really upsetting the balance of power." (Once he's born, they'll have three boys and two girls.)
Perhaps they'll try to restore the balance of power at some point in the future, but it sure sounds like they're open to a bigger family.
Check out Romper's new video series, Bearing The Motherload, where disagreeing parents from different sides of an issue sit down with a mediator and talk about how to support (and not judge) each other's parenting perspectives. New episodes air Mondays on Facebook.