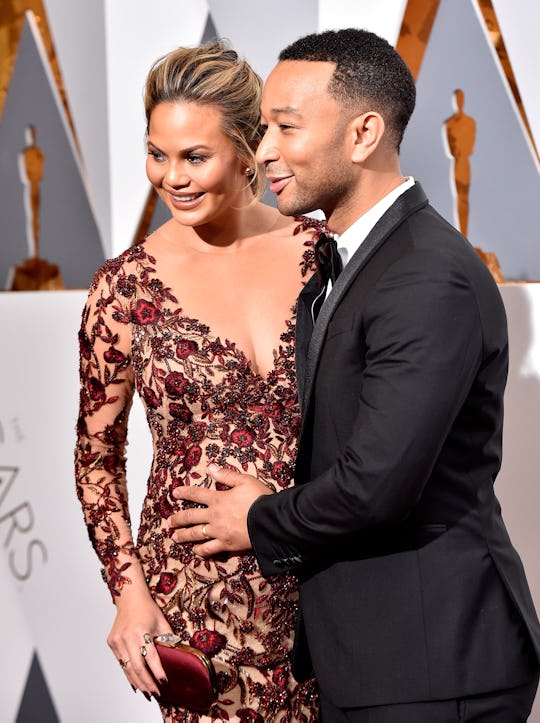 Kevork Djansezian/Getty Images Entertainment/Getty Images
Do Chrissy Teigen & John Legend Want More Kids? Baby No. 1 Is Almost Here
Congratulations are overdue for Chrissy Teigen and John Legend, who are expecting their first child in April. The power couple were thrilled to share the news back in October, and since then they've announced that it's a baby girl. But, do Chrissy and John Legend want more kids?
For many years, the couple had difficulty conceiving, but only last year did they share their story with fans. During an interview on FABlife, Teigen said, "John and I were having trouble. We would have had kids five, six years ago if it had happened. But, my gosh, it's been a process." Teigen has confessed that it was difficult not to discuss her in vitro fertilization treatments publicly. According to E! Online, she said "I wanted to talk about it for so long. It didn't feel right to ever tweet, 'Ugh, doing my IVF shots again.' It just sounded silly."
Once she did broach the subject, she was very candid about her IVF process and the mood swings she endured as a result of her hormone shots. "Emotionally, it could be really hard," she told People. "When you have these high-highs and low-lows, and you're, like, cuckoo pants. As many of you know, we've been trying to have a baby for a while now. It hasn't been easy, but we kept trying because we can't wait to bring our first child into the world and grow our family."
After several rounds of IVF, they announced they were expecting at last. She added that Legend has been very supportive throughout her treatments. "He completely understands everything; he's a sweet, sentimental, emotional guy," she said.
Despite that difficulty, they are not stopping there. Teigen told Self magazine, "I think I'll probably be pregnant all through my 30s. It'll be heartbreaking if it doesn't end up happening, but hopefully it will."
So, how many children are they're planning on having, exactly? Teigen told People she's hoping for a big brood. "I picture us with three or four," she said. "John and I go hard in everything we do. And we like a bit of chaos." She went on to say, "I hope that when we do have those four kids, John and I can look at each other and know that it's us against them. We are going to love the sh*t out of our kids, but we are going to team up and fight in pairs!"
As for baby names, Teigen told ET Online, "We have a running list on our phones. But we change it everyday. It's why I don't have a tattoo. There's nothing I like for more than 10 minutes." Hopefully inspiration strikes soon.