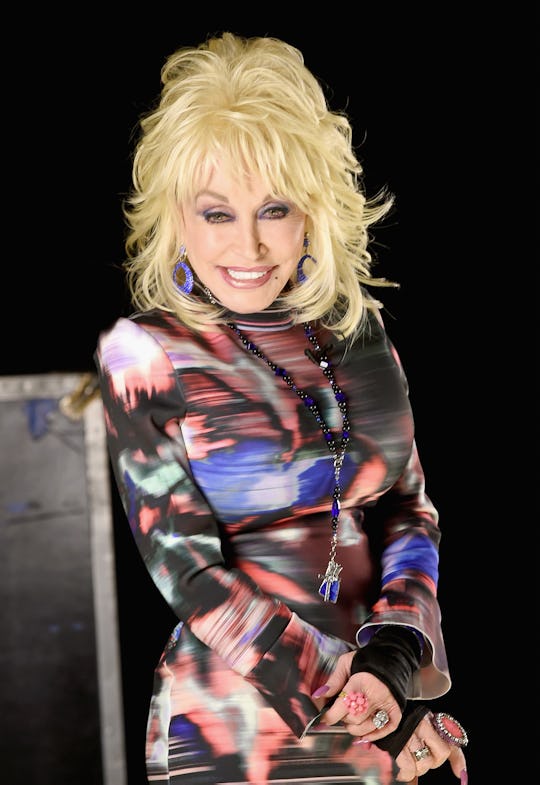 Rick Diamond/Getty Images Entertainment/Getty Images
Do Dolly Parton And Katy Perry Know Each Other? They'll Be Doing A Duet At The ACM Awards
They'll be performing together at the ACM Awards, but do Dolly Parton and Katy Perry actually know each other? They do now. Although the two women hadn't previously met, they've paired up for a live performance during the Sunday night broadcast of the awards. Both women are very excited to work with each other and tweeted about their mutual respect for each other's work just after they were booked for the show in March. Parton wrote that Perry was "ever amazing and oh so talented" on Twitter. Perry returned the compliment and gushed that would be "but one sequin on this living legend's costume." If the performers are this excited to work together, then fans should be, too.
Parton later told Entertainment Tonight that their collaboration for the awards could go a long way, "I don't know her, but I know she's a big fan and I've always been so touched and moved by all the different things that she'll say and do," Dolly said. The 10 time ACM winner added, "who knows, this might strike up a whole new thing!" Parton also hinted at some of the songs she and Perry brainstormed doing for the show. It looks like "Jolene" and "Coat of Many Colors" are in the works, according to Rolling Stone.
According to Parton, Katy Perry will also be presenting her with the Tex Ritter award for her made for television movie, Dolly Parton's Coat of Many Colors. Although they've never worked with each other before, Katy Perry is no stranger to Parton's music (is anyone?). In 2014, she performed Dolly Parton's "Here You Come Again" with Kacey Musgraves for CMT's Crossroads. Perry definitely has that country twang fans don't often get to hear on her own pop singles. For Crossroads, Musgraves and Perry also covered Bonnie Raitt's, "I Can't Make You Love Me," if you have any doubt that she can hold her own with a country music crowd.
Parton has no doubts about their performance together. She told CMT that Perry's a "gifted" girl. She continued "I think she's very, very talented. I don't know her yet. I'm hoping to get to know her." No matter what songs they end up singing, the performance is sure to become an instant classic. And who knows? Maybe Perry will be inspired to do a country album of her own day.