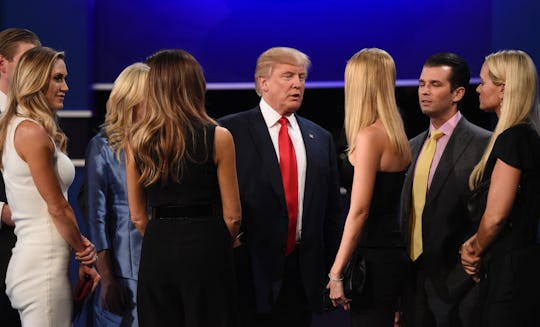 SAUL LOEB/AFP/Getty Images
Do Donald Trump's Wife & Kids Play A Role In Trump Enterprises? It's A Family Business
As the final days of the presidential campaign mercifully tick down, Republican candidate Donald Trump, flanked by Melania and his four oldest kids, sat down for an interview to talk business. Voters might wonder, do Donald Trump's wife and kids play a role in Trump enterprises? It's most definitely a family business.
Melania, Trump's third wife and devoted mother to 10-year-old Barron, seems to prefer to have her own thing. She's a former model and actress who has definitely dabbled in business related to fashion, skincare, and watches and jewelry, according to Entrepreneur, which reported that these are businesses she runs separate from the Trump organization.
Based on comments Donald Trump has made over the years about his former wives, Melania's work schedule likely revolves around her husband's needs. According to TIME Magazine, Trump blamed Ivana's career for the breakup of their marriage. "If you're in business for yourself, I really think it's a bad idea to put your wife working for you. I think it's a really bad idea. I think that was the single greatest cause of what happened to my marriage with Ivana," he said.
TIME added that Trump later said about second wife Marla, "I have days where I think [Maples' job is] great," he said. "And then I have days where, if I come home—and I don't want to sound too much like a chauvinist — but when I come home and dinner's not ready, I go through the roof."
Trump's three oldest children all hold Senior Vice President titles, according to ABC News, and will take over running the Trump Organization should their father get elected president. Just this week the four oldest Trump kids, including 23-year-old Tiffany, Trump's daughter with his second wife, Marla Maples, all attended a ribbon cutting for the new Trump hotel in Washington D.C., just steps from the White House.
"I've been joking for a while that when we started even just this project, we said Trump was coming to Pennsylvania Avenue," Ivanka Trump told ABC News. "And we didn't even know at the time what exactly that meant."
When 23-year-old Tiffany was asked during the interview whether she was planning to work for the Trump organization, she replied, "of course, I'm interested."
But, she added that working for the family business will have to wait a bit longer.
"I'm applying to law school, though, so I'd like to bring a different kind of skill set to the company," she told Stephanopoulos. "But we'll see what happens in the future. But they work so hard and it really, really is inspiring to see."
Recent reports say the Trump brand is taking a hit as a result of his divisive campaign. CBNC reported that Trump properties fell more than 16 percent in September compared to the same month last year.
A boycott of Ivanka Trump's brand has been making the rounds on social media around the hashtag, #GrabYourWallet. Here's the tweet that got it started and calls out Ivanka directly.
Asked about her response to women turning their backs on her brand because of her father she replied to ABC News, according to Vogue:
The beauty of America is that people can do what they like, but I prefer to talk to the millions, tens of millions of American women, who are inspired by the brand and the message that I've created. My advocacy of women, trying to empower them in all aspects of their life, started long before this presidential campaign did. I've never politicized that message. People who are seeking to politicize it because they disagree with the politics of my father—there's nothing I can do to change that.
Her father, Donald Trump took another tack when asked about his brand weakening: denial:
"I think the brand is hotter than it's ever been," Trump told ABC News. "But it doesn't matter to me. I don't care. It doesn't matter. I don't care about the brand. I care about the country. And fixing in this country."