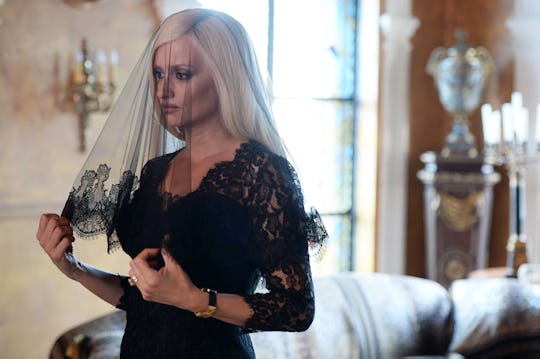 Jeff Daly/FX
'American Crime Story' Looks Into Donatella & Antonio's Strained Relationship
There was a lot to discuss in the first episode of The Assassination of Gianni Versace. For one, the season began with the murder of Versace, which was surprising for many. However, it was what happened afterward that had people curious. Mainly, there definitely appeared to be tension between, Versace's younger sister, Donatella Versace, and Gianni's boyfriend, Antonio D'Amico. So do Donatella and D'Amico get along in real life? It certainly doesn't appear that way.
Last May, D'Amico spoke to The Sun about his relationship with Donatella and said that although he tried to treat her like "family" at first, by the end of his contact with her he thought of her as a "monster." D'Amico claimed drugs were the cause in the change of Donatella's personality, and said she became "angry, frustrated, and suspicious of people around her. She was very difficult to deal with."
He went on to call her a "diva" and said that it was disrespectful for her to drop Gianni's name from the fashion line. D'Amico also claimed the feud began because Elton John informed Gianni about Donatella's drug use, which led to Gianni sidelining Donatella in the business. Donatella has since admitted she did have a cocaine addiction for 18 years, but it was actually John who did an intervention, which led her to entering rehab, though this was years after Gianni's death.
In an interview with The Guardian a few months later, D'Amico also accused the rest of the Versace family of mistreating him. He said that after Gianni died it was in his will that D'Amico receive a monthly pension for life of about $32,000 and the right to live in Gianni's homes. However, because the properties belonged to the Versace fashion house, Donatella had control over them, along with their older sibling, Santo, and Gianni's niece, Allegra. They decided to only give D'Amico a fraction of the pension and D'Amico decided to walk away from fighting for the rest. He then slipped into a depression that lasted several years.
For her part, Donatella has indicated that there's definitely no love lost between the two of them after her brother's passing. "My relationship with Antonio is exactly as it was when Gianni was alive," Donatella told The New York Times in 1999. "I respected him as the boyfriend of my brother, but I never liked him as a person. So the relationship stayed the same."
That being said, there is one thing D'Amico and Donatella definitely agree on: they don't like the show. D'Amico told The Guardian that he wouldn't be watching the show and revealed that he found the scene of Ricky Martin holding Gianni's body to be "ridiculous." Though he did add, "Maybe it's the director's poetic license, but that is not how I reacted."
Meanwhile, the Versaces family has been abundantly clear about how they feel about the show, releasing two separate statements on the issue. In the first, they made it clear the Versace family "neither authorized nor had any involvement" in the series, thus making the show "a work of fiction." FX and 20th Century Fox responded by standing by the show and noting that the show — which is based on the book Vulgar Favors by Maureen Orth — was "heavily researched and authenticated."
However, the Versaces then released a follow-up statement, in which they said the book is "full of gossip and speculation" and that it was "sad and reprehensible" for the producers to use Orth's book for the basis of the show. Additionally, Donatella told Italian newspaper la Repubblica that she wouldn't be watching the show "because after all this time it still hurts to see Gianni represented untruthfully." Thus it seems everyone that was close to Gianni doesn't want anything to do with the show.
Still, the show must go on. The Assassination of Gianni Versace continues Wednesday nights at 10 p.m. EST on FX.
Check out Romper's new video series, Romper's Doula Diaries:
Watch full episodes of Romper's Doula Diaries on Facebook Watch.