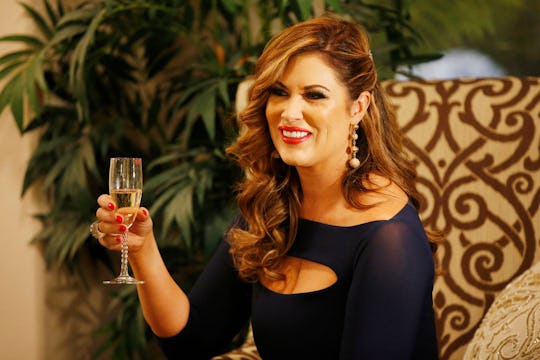 Phillip Faraone/Bravo
Emily & Shannon Don't Seem Very Close On 'RHOC' Season 13
During a group trip to Jamaica on The Real Housewives of Orange County, tensions arose between Shannon Beador and all of the other women. The trip was awkward from the start, with Shannon outright dismissing cast newbies Emily Simpson and Gina Kirschenheiter. An argument erupted during dinner, but what were its lasting effects? Do Emily Simpson and Shannon Beador get along after RHOC, or has their relationship remained the same (i.e., not great)?
It doesn't look like Emily and Shannon (or Gina and Shannon, for that matter) are going to be getting friendlier any time soon. In an interview with Too Fab, Emily explained that things have gotten worse between her and Shannon since Season 13 ended. "If you thought it was bad through filming, now she's blocked me [on social media]!" Emily said, though she had no idea what caused Shannon to block her. Emily speculated that perhaps Shannon had heard things she'd "supposedly" said about her, or became angry again after seeing the confessional segments on the show. Regardless of the cause, it doesn't seem like Emily and Shannon are even speaking at the moment.
According to Emily, things were uncomfortable between them on the rare occasion that they did end up in the same place at the same time. That should make this year's reunion especially interesting.
While speaking to Too Fab, Emily described a run-in that she and Gina had with Shannon at famed Housewives eatery The Quiet Woman, site of Shannon and Kelly Dodd's furious fight in seasons past. Emily said that as soon as Shannon saw her and Gina there, she "flipped out and ran away." Emily continued:
We were standing there, and she walked in the door, and I saw her. So I smiled and waved because that's what I do when I see someone I know. You should've seen her face! It was like she saw — I don't know — something that scared the crap out of her. She turned, she ran, she didn't wanna be anywhere near us. Her friends had to come over and apologize and say, 'Sorry she acted like that.' I don't understand it. It's very immature behavior, but that's on her.
Both on the show and in their blogs for Bravo, Emily and Gina have noted that Shannon just doesn't seem very interested in getting to know them. "I realize she has a full and busy life, as do I, but even when we are actually together, I've never felt Shannon try to engage with me, reciprocating questions about my life, family, career, or children," Emily wrote in one blog post.
However, she remained open about connecting with Shannon in the future, though Shannon might have to make the first move. Emily finished her blog post by saying, "Maybe someday Shannon will realize we have a lot in common, we will become friends, and she can finally unblock me from her Instagram page."
It's always possible things could change next season, but right now Shannon and Emily definitely aren't getting along.