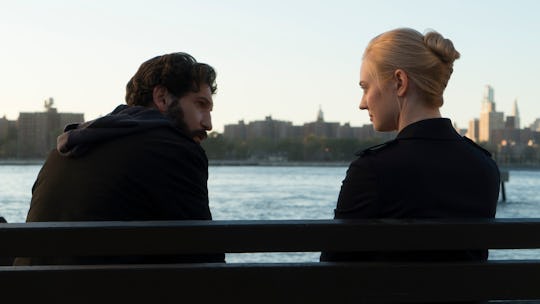 Nicole Rivelli /Netflix
Frank & Karen's Relationship In 'The Punisher' Could Get Complicated
Although there aren't a lot of familiar faces in The Punisher, there is at least one character crossover. Karen Page, from Daredevil, appears on the show, and despite everything Frank Castle's done, she's still on his side. Ever since Karen and Frank first connected, fans have been hopeful there would be some kind of relationship and that definitely seems like a possibility in The Punisher. But did Frank and Karen get together in The Punisher comics? Warning: spoilers ahead for Episode 2!
Surprisingly, in the comics, Frank and Karen were never aligned. Karen was always tied to Matt Murdock in the comics, and as far as I can tell, never even interacted with Frank at all. Thus, this storyline is one created just for the Marvel Cinematic Universe, which means the writers could go anywhere with it and fans have no idea how it'll play out. However, originally, Karen wasn't supposed to be in The Punisher TV show either.
Showrunner Steve Lightfoot revealed to Mashable that he actually requested Deborah Ann Woll, who plays Karen, be apart of the show because of the chemistry between Karen and Frank that was seen in Daredevil. "Frank is a closed-off military guy, and this is a woman he treats like an equal more than anyone else," Lightfoot said about the relationship between Karen and Frank.
Though it hasn't been fully explored yet, it's also been hinted at that Karen has a dark past, similar to Frank's. All that's known about that so far is that she had a younger brother named Kevin, who passed away when he was 16 in a mysterious car accident. Besides that, Karen was falsely accused of murder when she was first introduced on Daredevil, so she's already been through quite a bit. Still, there seems to be more about her past that hasn't been said, something that makes her relate to Frank.
In the comics, she had a turbulent relationship with Matt, which was filled with drugs and a history of acting in pornography. However, it seems unlikely this will translate to Karen's past on the show, but you never know. Whatever it is, Karen and Frank obviously have a special bond, one that could lead to romance. Woll seemed to even hint at as much during Comic Con in July.
"Frank has a soft spot in Karen's heart, and certainly with the dark history that Karen has, there are very few people she can share her authentic self with," she told Entertainment Weekly. "Frank is someone who she could potentially fully open up to."
Although nothing really romantic has happened between the pair yet, it was telling that Karen was one of the very few people that knew Frank was still alive. It's also telling that he went to her for help and that no matter how hard she tried, she couldn't resist helping him in any way she could. What really showed how much they cared for each other, though, was the hug they shared. When Frank was about to leave Karen's apartment, she pulled him back in for a long hug, before letting him go. Karen also made a comment about how it'd be nice to know he was still alive, since they obviously can't see each other often.
Whether or not their friendship transitions into a relationship, Karen and Frank work well together, and Frank needs as many friends as he can get right now. However, being friends with Frank puts Karen at risk. Hopefully, this won't end up backfiring on either of them.
Check out Romper's new video series, Romper's Doula Diaries:
Watch full episodes of Romper's Doula Diaries on Facebook Watch.