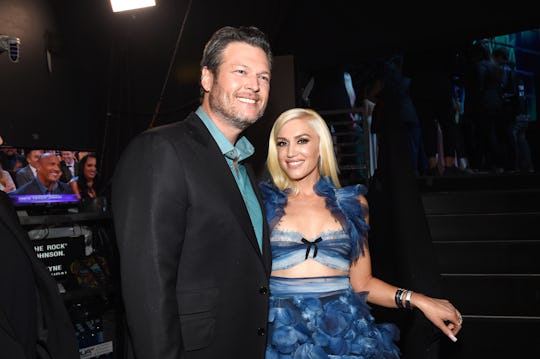 Emma McIntyre/Getty Images Entertainment/Getty Images
Gwen Stefani & Blake Shelton's Private Relationship
Gwen Stefani and Blake Shelton are undoubtably one of the cutest couples in Hollywood. Their chemistry is undeniable — both on and off screen. The two judges from The Voice might argue a little during the show (because convincing someone to choose between Team Blake and Team Gwen is so difficult), but the couple does see eye to eye on a few things. After watching the couple tease one another onscreen though, fans might be wondering about their real life relationship and whether people have to wonder — Stefani and Shelton want kids of their own someday.
The couple, who have been dating since 2015, have never actually stated whether or not they want kids together (though there have been plenty of unfounded — not to mention irritating — pregnancy rumors). Shelton has always wanted to be a father, though. According to Us Weekly, Shelton's marriage to ex-wife Miranda Lambert reportedly ended in 2015 because Blake was "dying to have kids," while Lambert on the other hand, was hoping to hold off a bit longer, though neither party's publicist ever confirmed those rumors (not that they need to — it's not our business, after all).
For her part, Stefani already has three sons of her own — 10-year-old Kingston, 8-year-old Zuma, and 3-year-old Apollo — with ex-husband Gavin Rossdale. Whether she wants more children is anybody's guess.
In January 2016, Shelton had some choice words for a fan who asked if he was going to start a family with Stefani. "I think it's a little early to be talking about that, don't you?" Shelton asked, according to Entertainment Tonight.
Whatever the case, while it may be a little early to be talking about starting a family, it appears that Shelton gets along great with Stefani's kids, at least based on various photos and videos from her own family vacations. The feeling appears to be mutual: According to Us Weekly, sources say that Stefani's boys love Shelton. Shelton also spent Christmas Eve and Thanksgiving with Stefani and her boys this past year.
Whatever the case, one thing is for sure — Stefani and Shelton are completely in love. In April 2016, Stefani told Vanity Fair that she wouldn't talk about her relationship with Shelton, but in October 2016, Stefani was a little more open about her relationship with People. "I'm the happiest I've ever been," Stefani said. "I'm in a good place and I'm so excited. There's always amazing things to come."
Only time will tell if the couple end up tying the knot or having kids. For now, Stefani and Shelton definitely have their hands full, Stefani as both a mother to her three young sons and in her role on The Voice, and Shelton as a judge on the show and a country music superstar. Either way, things for the duo are looking up.