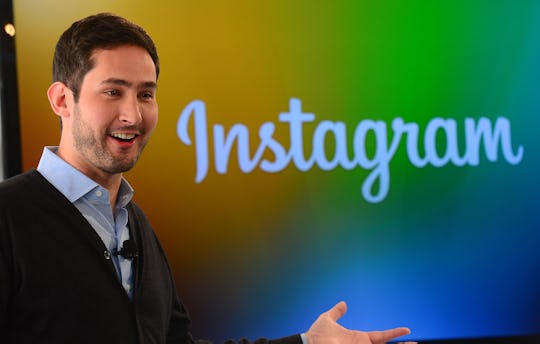 EMMANUEL DUNAND/AFP/Getty Images
Do Instagram Live Videos Disappear? They're Only Available Until The Streaming Ends
Not satisfied with being the number one app for people who like taking pretty pictures of brunch, Instagram rolled out a new feature on Monday. The updated feature allows viewers to broadcast live videos, à la Instagram's parent company, Facebook. But do Instagram live videos disappear? The short answer is yes — unlike many other live streaming services out there, Instagram live videos are gone from the app as soon as the stream ends, an interesting move on the company's part that has both negatives and positives to it.
The feature is rolling out over the next few days, after a successful test run, so interested users should check for updates on their app. According to the Instagram help section, to start an Instagram live video and begin broadcasting to the world at large, all users have to do is,
Tap [the camera icon] in the top left of the screen or swipe right from anywhere in Feed.
And then,
Tap Live at the bottom of the screen, then tap Start Live Video. Your followers may be notified when you start a live video.
Users can see the number of viewers on the top right of their screens, and comments will appear at the bottom. (Although for people who would rather broadcast without getting comments, it's possible to turn those off by tapping the ellipses and selecting "Turn off commenting.")
And if you'd rather just watch someone else's live stream, you can find top-rated live broadcasts to enjoy under the "Explore" tab, where an algorithm picks the best content currently being broadcasted and curates it under the "Top Live" section.
Once users hit "End," and tap to confirm, their live video disappears. A live broadcast won't clutter up your feed, which goes along with Instagram's clean aesthetic. And there's something nice and freeing about the ephemerality. The company itself says it made the decision "so you can feel more comfortable sharing anything, anytime."
However, the one big negative is, of course, that if something really amazing happens in your live video, and you get a hankering to re-watch it, or share it with a friend who happened to be busy when you started doing your silly dance/awesome acrobatics/hilariously biting commentary on whatever you were observing at the moment, you can't. It has been lost forever. (Although, let's be real. Someone is going to develop a work-around sometime soon. Somebody always does.)
Enjoy the new live feature! Just remember to go outside once in a while, even if it means you might miss something cool.