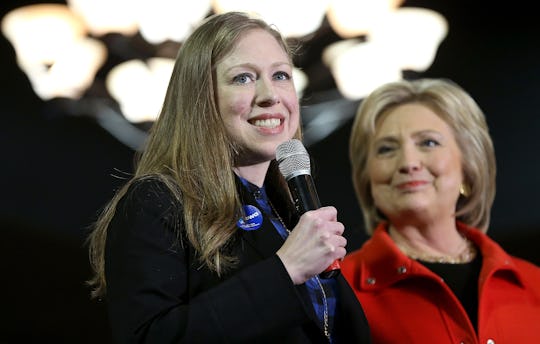 Win McNamee/Getty Images News/Getty Images
Do Ivanka Trump & Chelsea Clinton Know Each Other? They Actually Call Themselves Friends
Elections test loyalties. This year, it's likely that no one understands that better than the daughters of the two presidential candidates. Do Ivanka Trump and Chelsea Clinton know each other? The two are actually friends, but their bond is tested by challenging months on the campaign trail.
Clinton and Trump's friendship started years before their families became political rivals; according to Politico, the two met through their husbands. They've been spotted at events together in the past, and each spoke highly of the other in interviews. Both know what it's like to grow up in the public eye and work for their parents in adulthood: CNN Politics reported that Clinton's work at the Clinton Foundation is in a similar vein to the work Trump does for the Trump Organization. Though they certainly have enough in common to cement a strong sense of mutual understanding, a brutal election pitting their parents against each other may have shifted the dynamic in their friendship.
In an interview on Thursday's episode of TODAY, Matt Lauer asked Clinton how criticism levied at Democratic presidential nominee Hillary Clinton during the RNC affected her as a daughter. Clinton responded by saying that her mom's tough, adding that disparaging comments "about women, about minorities, about Muslims, [and] about immigrants" bothered her most. Lauer went on to ask whether she would be open to a "children's summit," or even a one-on-one meeting with Trump, to talk about the "tone" of campaign discourse. Clinton said she hadn't thought about it, but she would consider a meeting:
I think it was clear last week when Ivanka introduced her dad that she's so proud of him. I hope it will be kind of at least as clear why I'm so proud of my mom when I introduce her here in Philadelphia. And yet clearly Ivanka and I have very different views about who we think should be our president, who we think best represents our country.
Though Clinton said she didn't expect Trump to answer for her father's comments about the Clinton family, another interview reveals that the former first daughter is still open to asking her friend challenging questions. During a Facebook Live event hosted by Glamour, Editor in Chief Cindi Leive mentioned Trump's RNC speech praising Republican presidential nominee Donald Trump's dedication to closing the wage gap and providing affordable child care; according to CBS, Leive said to Clinton, "...if you got to ask [Trump] a question about how her father would do that, what would it be?" Clinton offered a blunt response:
It would be that question: 'How would your father do that?' Given it's not something that he has spoken about, there are no policies on any of those fronts that you just mentioned on his website -- not last week, not this week. So I think the 'how' question is super important. In politics as it is in life.
Despite their political differences and family ties, Clinton and Trump reportedly still get along. In a July interview with People, Trump said they aren't letting separate lives on the campaign trail compromise their relationship: "We're both incredibly supportive of our parents, as we should be," she said. "But we also continue to have great respect for one another." She added, "Our friendship has never been about politics. I don't expect it will be about politics in the future." Now that they're enduring the spotlight during one of the most divisive elections in history, it's possible they understand one another better than ever.