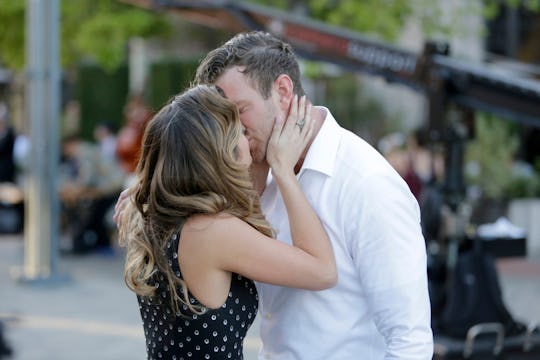 Greg Zabilski/ABC
Do James Taylor & JoJo From 'The Bachelorette' Have Chemistry? It Could Be Platonic
James Taylor is — along with having an uncanny name for a guitar-playing singer/songwriter — one of the sweetest guys on JoJo's season of The Bachelorette. In a sea of hulked out "male models" and "professional trainers," James is the sort of sensitive, deeply humble, artistic soul we crave to deliver us from the testosterone overload commonly experienced on The Bachelorette. And while, yes, the idea of "the friendzone" is rooted in sexism, it does seem like there's a possibility that James T. and JoJo's connection is merely platonic. So is James in "the friendzone" on The Bachelorette?
As a self-identified kissing expert, I will say that James and JoJo's lip-locks do not appear to be one hundred percent fireworks-inducing. This is not to say that either JoJo or James is a bad kisser! But it does seem like they may not be totally compatible kissers, or totally sexually attracted to each other, or something. JoJo has much more passionate smooches with some other guys in the house that seem to be a better fit for her, chemistry-wise.
She seems super swept off her feet by the idea of a sensitive, song-writing, guitar-playing dude, and she even weeps when he pours his heart out to her in a letter he reads aloud and lets her keep. They seem to have a blast on their swing dancing date, and she tells him that he "would be a great life partner" when they're sharing a romantic moment alone together. He confesses that he was often made fun of for his appearance as a kid, and it left him believing that he doesn't deserve women he meets to whom he feels a strong attraction.
This might explain why he's less aggressive, suggestive, or purposefully sexual with JoJo than the other guys. He's coming into the experience with the mentality that women he thinks are great don't get to be "for him," so he doesn't lead with flirtation. Rather, he plays to what he perceives his strengths are: his artistic expression, trustworthiness, and dependability. James T. thinks these are unsexy characteristics and so he's not coming off as a contestant who particularly exudes sexuality. But JoJo, as someone who has been hurt before and struggles with keeping herself too guarded in her subsequent relationships, is craving someone trustworthy and dependable to feel safe with. She says as much to him on their date.
So James might not be leading with raw sexuality, which, on-screen, has the effect of making his relationship with JoJo look more platonic than romantic. But plenty of relationships have blossomed out of deeply bonded friendships, and it looks like that's the tack he's taking here.