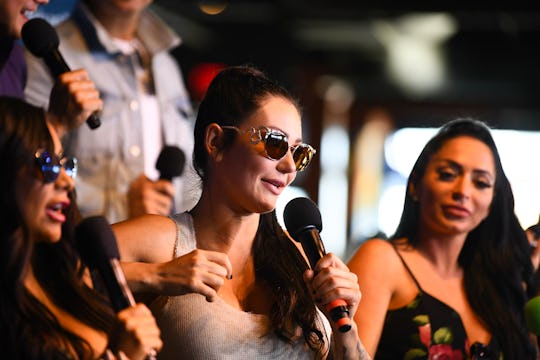 Dave Kotinsky/Getty Images Entertainment/Getty Images
Jenni & Angelina Have A Rocky Relationship On 'Jersey Shore Family Vacation'
Jenni "JWoww" Farley and Angelina Pivarnick haven't always gotten along on Jersey Shore, so some friction was to be expected when Angelina joined Jersey Shore Family Vacation. But promos indicate that things take a turn for the worse when Angelina tries to play a practical joke on Jenni at the club. Could time have improved their relationship, or is it as tense as ever? Do Jenni and Angelina get along after Jersey Shore Family Vacation?
There has been a lot of back and forth in Jenni and Angelina's relationship over the years. When Angelina departed in Season 1, it seemed like she wanted to get to know the rest of the cast better and smooth over their past issues. But then she posted a picture on Instagram on a "Jersey Whore" mug that she dedicated to Jenni; an argument between the two ensued in the comments. Afterwards, Angelina told TooFab, "Me and Jenni, we have a lot of stuff to square away. There's a lot of stuff that has been spoken about in the media, on social media and it's unfortunate, but as far as me and her, we're not in a good place right now."
She was hopeful that they would make up one day, but didn't know if it was possible. And it seems like not much has improved since Season 2.
A sneak peek for Episode 5 shows Angelina trying to playfully connect with Jenni while declaring in the confessional that she's genuinely trying to be friends. Unfortunately, the situation goes awry fairly quickly when Angelina tries to put a piece of ice down Jenni's dress. She ends up chasing a visibly resistant Jenni all around the table until Jenni catches her and puts her in a headlock. That might not be the best way to bury the hatchet, and it's not clear that they've managed to move beyond that after the show, either.
Both Jenni and Angelina talked to Us Weekly in August of this year about the status of their relationship, chocking their issues in Las Vegas up to bad timing. Jenni was already dealing with a lot and viewed Angelina as an "outsider" showing up at the worst possible moment. "The thing with Angelina was real and it's been going on for years," Jenni said. "But when [Nicole] invited her to Vegas, the real-life stuff was happening with Ron and I was just like, 'This is weird for an outsider to be involved.'"
Jenni continued:
Literally in the middle of Ron dealing with this craziness and we're just going to have this chick walk in and now she's going to have to deal with it? It was just bad timing on all our parts.
Angelina agreed, calling the whole thing "a nightmare." But she was still optimistic about them becoming friends one day. "We're taking baby steps — very little, tiny baby steps into getting to know each other," Angelina said.
Jenni and Angelina don't appear to be particularly friendly on their social media accounts, though it also doesn't seem like any outright insults have been leveled offscreen since Season 2. But even if they haven't become besties, that doesn't mean there's any hard feelings there. When Angelina was asked on Twitter about her relationship with the entire cast, she stated that they were "family" and she loved them, despite the onscreen difficulties.
Angelina seems open to working things out with Jenni, though it's harder to say whether that sentiment is reciprocated. But who knows what the future might hold for them? Jersey Shore Family Vacation airs on Thursdays on MTV, so you can see for yourself how it all unfolds.