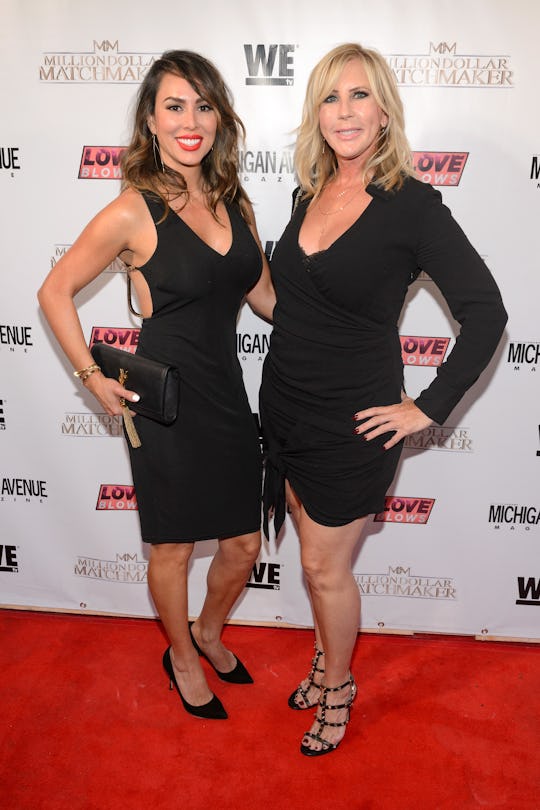 Daniel Boczarski/Getty Images Entertainment/Getty Images
Kelly Dodd & Steve Lodge Aren't Getting Along On 'RHOC'
Once Kelly Dodd learned that Vicki Gunvalson and her boyfriend Steve Lodge were still super-close with Kelly's ex Michael, it put a strain on the relationships of all involved. Season 13 of The Real Housewives of Orange County has been tense as a result, especially after Kelly's attempt to talk to Steve didn't quite work out in Episode 8. But do Kelly Dodd and Steve Lodge get along after RHOC? Were they able to mend things once the cameras stopped rolling?
It doesn't seem like it. According to Bravo's The Daily Dish, Kelly appeared on the Sirius XM show Jeff Lewis Live to discuss Steve and what happened after her attempt to "make amends" fell flat. She felt that Steve snubbed her, and it sounds like things haven't improved between them since then. Kelly claimed she doesn't want Steve discussing her in the press, saying, "It's just when he started talking about me about setting up Michael, I was like just don't talk about me. He was just doing [Vicki's] dirty work for her. That's all."
Kelly also explained that she hadn't talked to Vicki in a couple of months. If she isn't talking to Vicki, then it stands to reason that she probably isn't chatting with Steve either.
Kelly also criticized Steve in a blog post she wrote for Bravo after Episode 8 aired. In Kelly's opinion, her issues with Steve stemmed entirely from the fact that she believed he spoke to Page Six about her at Vicki's behest. "I find that for a man to get involved and stoop to that is just low," Kelly wrote. She went on to say that she hadn't seen Steve "in a while" prior to Tamra's party and she felt uncomfortable around him. But she was genuinely looking to smooth things over, even if it didn't quite turn out that way. As Kelly said:
Steve did something malicious toward me, and I felt hurt about it and wanted to clear the air like an adult, but these people are behaving like children. Steve thinks he's taking the high road by dismissing me, but taking the high road would have been to apologize and respectfully step away from the situation knowing that Vicki and I are now back on track. That's what a real man would do.
When Kelly appeared on Watch What Happens Live with Andy Cohen, a fan asked if she thought Vicki was rushing things with Steve. Though Kelly started off speaking positively about their relationship, her answer quickly shifted. She said she couldn't judge Vicki and Steve, but thought they looked happy. Then she added that Steve was always cleaning up the house and the yard, stating that he was Vicki's "little b***h."
Based on what Kelly has written and said about Steve, it doesn't seem like they've managed to resolve anything since RHOC finished filming. Nor does it look like they're in a rush to figure it out. When a fan on Twitter encouraged Kelly to "go after Steve," Vicki interjected. She wrote, "Go after Steve for what? He can't stand Kelly. He's a gentleman and is a class act and knows who the 'real Kelly is.'"
Steve doesn't have a Twitter account to comment on the situation directly, and he hasn't brought it up on his Instagram either. But if Vicki's tweet is to be believed, then he's not a particular fan of Kelly's; from her interviews, it appears the feeling is mutual. She did tell Page Six that she was no longer as close to Vicki as she once was and felt that might be because "her boyfriend likes Michael more than me."
It's always possible that things may change at the reunion, but at the moment Kelly and Steve don't seem to be interested in bridging the distance between them.