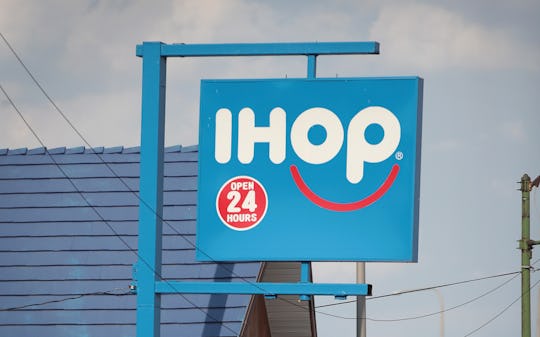 Scott Olson/Getty Images News/Getty Images
If You're Making Dinner Plans, Kids Eat For Free At IHOP — Just Sayin'
School is back in session, and although that means a return to routine for many families, it also means that dinnertime can feel even more frenzied than normal. Between school pick-ups and sports practice drop-offs, it's hard to get dinner made in time. Kids come home ravenously hungry, after all! Sometimes it just makes sense to go out to eat, and in my opinion, there's nothing better than breakfast for dinner. Of course, nobody does "breakfast-all-day" better than the International House of Pancakes, but, do kids eat free at IHOP?
The answer is yes, IHOP does currently offer a nationwide "Kids-Eat-Free" program with the purchase of an adult entree from 4 p.m. to 10 p.m., according to a company tweet. However, you should call your local IHOP ahead of time, because the "Kids Eat Free" offer may be available at different times during the evening depending on location, an IHOP representative tells Romper over the phone.
Once you confirm when you can score those free kids' meals, it's time to round up the crew for some maple syrup-filled goodness. "Our 'Kids Eat Free' promotion makes it convenient, affordable and delicious for families to spend dinner time connecting and enjoying each other's company. Quality time over a quality meal at an affordable price-another great IHOP tradition!" explained Kirk Thompson, Senior Vice President, Marketing, International House of Pancakes, LLC, in a company press release.
Yet, don't forget when you do finally sit down for dinner at IHOP, that they have more than just pancakes. They have burgers on the menu now, too. In fact, back in June, the company briefly changed their name to IHOB (the 'B' stood for burgers), and the internet exploded over the name-change news. Even fellow fast-food chains got in on the roasting action, according to Delish, which noted that Burger King had a particularly clever response.
"Burger King didn't tweet anything — it just completely changed its profile. The chain's handle is still @BurgerKing but the name now reads Pancake King, and there's a giant photo of flapjacks on the profile," explained Delish.
So was the online outrage and trolling the reason why IHOP dropped the whole IHOB thing and returned to its original name? It turns out that it was a publicity stunt all along, according to US Weekly. Millions and millions of people had a lot of fun 'blaying' along with the idea of flipping the 'P' in our name to a 'B' and guessing what the 'B' could be. However, we are, and always will be, the International House of Pancakes," said Brad Haley, Chief Marketing Officer, IHOP, in a company press release on PR Newswire.
One things for sure, no matter what their latest publicity stunts are, IHOP has been around for a heck of a long time — 60 years, according to the same PR Newswire IHOP press release. That's a lot of 24-hour pancakes!
I'm a huge fan of breakfast for dinner — and maple syrup any time I can get my hands on it — so all I can say is, thank goodness for IHOP!