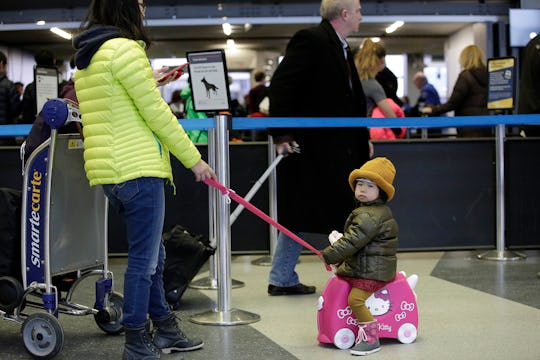 Joshua Lott/Getty Images News/Getty Images
Here's What Your Kid Will Need In Order To Fly This Travel Season
Traveling with kids can be a nightmare, especially if traveling means flying. When you're packing for a flight you have to remember a slew of rules, like packing three-ounce toiletries in quart-sized bags and fitting all your items into a certain number of bags. When you have kids, it's just too much. So the last thing you need is to be stopped at airport security and told you're missing a vital piece of documentation. So, it's best to find out ahead of time if kids need ID to fly.
The answer, my friends, is generally no. According to the Transportation Security Administration (TSA), kids under 18 don't need identification to fly within the United States. There are a few notable exceptions that you should be aware of, however, and before you book your flight. For example, if you are traveling out of the country with your kids or your children are flying as unattended minors, the U.S. Department of Transportation does require they travel with identification.
According to the TSA, all air travelers age 18 and older need to show a government-issued photo ID like a driver's license, passport, or permanent resident card to fly within the United States. The same site notes that children under 18 are generally exempt from these rules, at least from a security standpoint, and will only need a boarding pass to get through security as long as they are accompanied by an adult with an ID.
As USA Today reports, airlines have their own rules for who has to show ID to fly. Generally speaking, they don't require anyone (kids or adults) to provide any identification beyond a boarding pass to board a domestic flight. Once you get past security, you can simply show the agent your boarding pass to get on the plane. The same goes for your kids.
Some airlines do require that you provide proof of your child's age if they are traveling for free and as a lap-child without their own seat. In that case, it's best to bring a copy of their birth certificate or passport, just to be on the safe side.
According to the U.S. Department of Transportation, one other exception to the no ID for kids rule might be if your child is traveling by themselves. In this case, the airline may require proof of age (like a birth certificate), or proof of your identity when you drop them off or pick them up.
If you are traveling with your child out of the country, a different set identification requirements apply. As reported by USA Today, the TSA requires an official government passport for all people traveling internationally, regardless of age.
According to the U.S. Department of State, to get a passport for your child you need to apply in person and provide proof of their identity and your relationship to them, like a birth certificate, adoption decree, or custody decree. You will also have to provide passport photos for your child that meet their specific requirements, namely, a white background and no one else in the shot, as well as a completed DS-11 form.
Since it can take six to eight weeks to get a passport for your child, it's best to not wait until the last minute if you are planning to travel out of the country. Once a passport is issued for children under 16, however, they are good for five years.
For kids 16- and 17-years -ld, the same basic rules for getting a passport apply. They can either have a parent with them or a notarized letter from a parent stating they have permission to apply for a passport, and a photocopy of that parent's government-issued ID. Once you reach age 16, your passport is good for 10 years.
As USA Today reports, if you are traveling alone with your child you should know that some countries require a notarized letter signed by both parents, giving consent for you to fly. Professor and mom Sofia Jawed-Wessel, PhD, found this out the hard way when traveling to Belize with her baby and a group of students.
"As we were boarding in Houston for the final leg of our journey, the flight crew asked all solo parents traveling with children to bring over a notarized document with permission from the child's other parent to travel abroad," Dr. Jawed-Wessel tells Romper via email. "I immediately panicked, as I had no such note."
She had no idea this was a requirement, and was stuck away from home unable to board her flight until she could arrange for documentation to be sent from her partner and co-parent. "No travel agent or airline employee had mentioned this to me prior to this moment," she says.
If you are divorced or have a custody agreement, it might also be necessary to bring a copy of your divorce decree to show that you have legal right to travel out of the country with your child, and/or permission from their other parent.
Flying with children is hard enough without being hassled at the airport. Fortunately, with some simple planning, you can bring everything you need to ensure that you all can make it to your travel destination relatively unscathed.