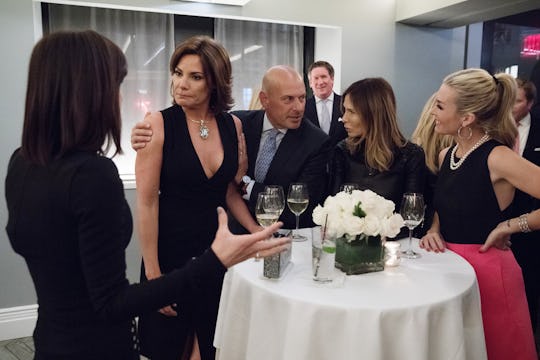 Heidi Gutman/Bravo
'The Real Housewives Of New York' Season 10 Will Address Luann & Tom's Split
Luann de Lesseps and Tom D'Agostino divorced ahead of the Season 10 premiere of The Real Housewives of New York, just seven months after they tied the knot. Their separation still seems fresh and will most definitely be a topic of discussion in the new season, which may leave fans wondering where the former couple stands these days. Do Luann and Tom from RHONY still talk?
It seems like they do, though the information isn't entirely confirmed. News of their continued communication doesn't come directly from either Tom or Luann, but from an anonymous source who spoke with Us Weekly. It does make sense that Luann and Tom wouldn't have totally ceased talking, but since the update comes from a third party, it's best to take it with a grain of salt. "They text and talk to each other, but it's not super in depth," the source said. "They're just checking in."
It's possible that Luann and Tom still have details to finalize about their separation, but what they talk about (if and when they talk) is between them. Despite the noted difficulties in their relationship that led to their split, both have stated in their separate divorce announcements that they still care for one another and wish each other the best. While they definitely don't appear to be close anymore, it doesn't seem like things are particularly contentious either.
Luann shared the news of the divorce on Twitter in August, later getting more in depth with Page Six about what had led to the breakup. Though she was honest about the trouble she and Tom had, she also made sure to mention how disappointed they both were by the outcome. Luann explained:
It was impossible, we were having problems and we tried really hard to fix things, and we finally came to the conclusion it was just not going to work. It was a tough decision and we are both very sad about it. But the truth is we just weren't getting along.
While the content and frequency of their chats is uncertain, it's possible that Luann will shed some light on the situation when RHONY returns. Promotional material for the new season makes it seem like she's going to be opening up about Tom and everything that transpired between them. According to the Daily Dish, though they've texted, Luann has no plans to get back together with Tom, who has since reportedly started a new relationship with Anna Rothschild.
Co-stars Sonja Morgan and Ramona Singer have also had a run-in or two with Tom. Sonja shared the details with the Daily Dish, explaining that being in the same neighborhood made it impossible to avoid crossing paths, though she sounded pretty firmly Team Luann. Sonja said:
You know, I live on the Upper East Side, which Luann has definitely been avoiding, and you do see Tom 'cause he lives on the Upper East Side. And don't forget Tom was one of my closest friends. We were friends for over 10 years. We used to hang out and party and have a good time. So I'm not doing that with Tom anymore now that there's a rift between between him and Lu. A rift? A divorce.
Ramona's interactions with Tom seemed similarly casual. She told E! News that she had seen him in Palm Beach over the Christmas holiday season, "after the incident happened with Luann." Ramona went on to say, "I was there for New Year's. I ran into him a number of times 'cause Palm Beach is very small. He seemed fine. Tom is Tom, and he's not going to change."
Luann and Tom have divorced, but it doesn't look like they've entirely cut off contact yet, especially since they still run in similar circles.
Check out Romper's new video series, Romper's Doula Diaries:
Watch full episodes of Romper's Doula Diaries on Facebook Watch.