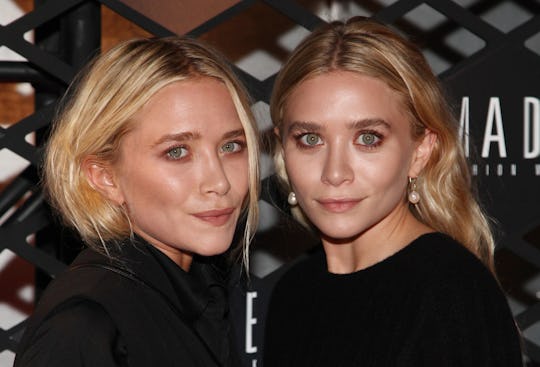 Taylor Hill/Getty Images Entertainment/Getty Images
Do Mary-Kate and Ashley Olsen Get Along? The Twins Seem As Close As Ever
Mary-Kate and Ashley Olsen have been famous since they were 9 months old and both starred as teeny Michelle Tanner on Full House. And now just a few months shy of their 30th birthdays, the world's most rich and famous twins remain just as interesting to the public as they ever were. So after all these years sharing a spotlight, do Mary Kate and Ashley Olsen get along? Actually, the sisters seem as close as ever.
Die-hard Full House fans were openly disappointed the Olsen sisters didn't sign on for the recent Netflix re-boot, Fuller House. But the two keep busy with their super successful fashion line, The Row, which has even earned them plenty of acclaim including a nod for "Top Womenswear Designers" from the Council of Fashion Designers of America. The two tiny wins are legit fashion powerhouses. And despite rumors about Mary-Kate's anorexia and Ashley's Lyme Disease sidelining the two, a recent article from E! News makes the sisters sound much more comfortable out of the entertainment business and focused on fashion. Mary-Kate did pick up a couple of acting jobs over the past few years on Weeds and Beastly, but Ashley's last acting job was in 2004's New York Minute.
But there's no denying these ladies have taken their sisterhood bond, which Ashley described to Allure as "beyond words," and used it to create and sustain a multi-decade, multi-million dollar, multi-industry, wildly successful business collaboration.
It's easy to look at the two women, who audiences have literally watched grow up, and forget who they've become. These aren't a couple of baby actors talking over a laugh track anymore. These are two very wealthy and powerful businesswomen who are nothing less than a fashion force with which to be reckoned. Don't let their small frames fool you. A pair of black leggings from The Row cost $2,090 at Barneys. Just sayin'.
And so, it seems the Olsen sisters have a love for each other strong enough to handle the pressures you can only imagine their relationship weathered over their nearly 30-year career that has bonded them together. Besides, who else could relate to being a household name before your first birthday? Beyond the basic twinning thing, the two sisters share a life experience no one else could possibly relate to or understand.
Take this eerie quote from Ashley Olsen about her relationship with her sister from Allure, "We both carry the weight of each other."
I think that pretty much tells you all you need to know to understand how close these two sisters are and how well they get along.