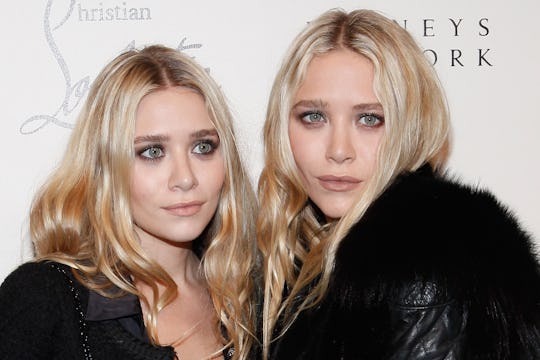 Cindy Ord/Getty Images
Do Mary-Kate & Ashley Olsen Still Talk To The 'Full House' Cast? They Certainly Seem To Be Very Close
In just a couple of weeks, Netflix will launch Fuller House, a reboot of the '90s sitcom sensation Full House, which has left many wondering: do Mary-Kate and Ashley Olsen still talk to the Full House cast? The twin fashion designers and former actresses are the only main characters from Full House who won't be starring in the reboot, so it's a legit question.
Scandalous as a Full House ex-cast feud would be, it seems there's not much scandal here. True, Fuller House creators and cast members are disappointed that the twins didn't sign on, but it wasn't because of any major bad blood. Series creator Jeff Franklin told The Hollywood Reporter that the Olsens "decided not to [appear in the series]" for the moment, but hadn't dismissed the show completely. "We're hopeful at some point in the future that they'll change their minds and come back," Franklin said, adding that "we still love them and the door is always open."
Not exactly tabloid material, right? Back when Fuller House was first announced, the Olsen twins told Women's Wear Daily that they didn't even know about the reboot until they saw actor John Stamos talking about it on Jimmy Kimmel Live! "I guess we're going to talk to the creators and see what's happening," they told the host at the time. And even though Stamos didn't manage to tell them about the reboot in time, he did hug Ashley on National Hug Day. So clearly all is forgiven.
In the end, though, the twins opted out. Neither twin has done any acting in several years, choosing to focus instead on their numerous fashion ventures. And even if they won't be seeing their former cast mates on the Fuller House set, it seems that they all still keep in touch.
In November, US Weekly reported that Ashely Olsen and Bob Saget were together backstage at the Broadway play Hand of God, in which Saget was starring at the time. And back in 2008, after the Olsen twins were the target of mean-spirited jokes at Comedy Central's roast of Bob Saget, both Saget and John Stamos came to the Olsens' defense. At the time, Stamos said he was their friend, and Saget maintained that he loved them "very, very much."
Fuller House cast member (and former Full House star) Lori Loughlin also posted a photo of herself and Ashley on Twitter a few years back, further proving that there was no bad blood or distance between the tight-knit crew.
Bottom line? The Olsen twins still keep in touch with their Full House family, even if Fuller House is just a bit less full without them.