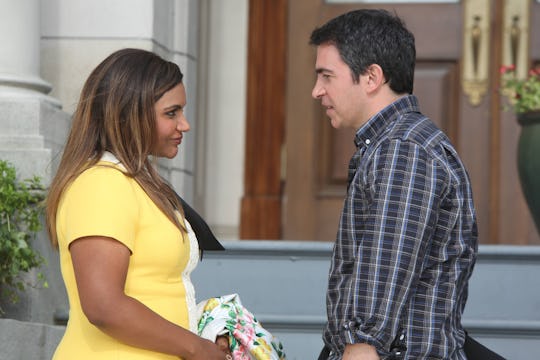 Jordin Althhaus/Hulu
Is There Still Hope For Mindy & Danny On 'The Mindy Project'?
As with any beloved TV show, it's so bittersweet that The Mindy Project is ending. Sure, we know it's had a good run and it's time to say goodbye, but still. Then again, we'll finally get the answer to some of the most pressing questions. Like, will Mindy get her happy ending? And more importantly, do Mindy and Danny get back together on The Mindy Project? Basically, this entire season hinges on whether Danny and Mindy will actually end up together or if they find some other way to live the rest of their lives.
So far, Season 6 has tied up a lot of loose ends, so it makes sense that we'll get some closure for their relationship. Not only does it feel like each and every character is going to get their happy ending during the finale, but we've also gotten tons of plot lines and cameos from some of the best guest characters and Mindy's ex-lovers, like Casey, Glenn, and even Brendan Deslaurier. So fans know she's probably not going to end up with any of them.
It sort of feels impossible that the series ends with a single Mindy, given that her emotional growth over the course of six seasons is slow at best and often painful to watch. Sure, Mindy feels the most mature than ever before. But this is a woman raised on Meg Ryan movies — happily ever after means a very particular thing to Mindy and that means True Love, followed by tons of ice cream. With the return of Danny in the final episodes, it seems like them getting back together is inevitable.
Then again, the whole season has been pushing back on the idea that a woman has to have a partner to be happy. When Mindy did get her Prince Charming in Ben, she couldn't get into it.
We were also given a major clue about Mindy's new, more mature, take on romance in "Girl Gone Wild." Remember when Mindy went on her "One-y Moon" in the wilderness and was basically left for dead? She hallucinated Reese Witherspoon (which was totally amazing) who gave her a talking to, telling her to buck up and stop looking for a "happy ending," since those don't exist for single moms in their 30s.
At the end of the episode, Minday realized that she's fine by herself, but when Martha, the older woman she met on the trip, suggested that she needs to be with someone who can tell her "to shut up," Mindy became thoughtful. You know she was thinking about Danny, especially after she said, "I know someone like that, but that didn't work out either."
Once upon a time, I would have loved nothing else than for Danny and Mindy to live happily ever after. But that was back when his grumpy demeanor was still charming. Then Danny became the worst.
That helped as a plot device to make his leaving the show a little more understandable, but it was also really hard to watch while it was happening. And although Mindy has evolved emotionally over the course of six seasons, Danny has remained the same, Ken Burns-loving dude. Is he worthy of Mindy still?
Yea, he's technically been Mindy's best relationship (although pre-marriage Ben is high up there) and they do have baby Leo together, which means they'll always be in each other's lives. But I don't know — Mindy was often miserable around him. And he's kind of mean to her.
Seriously, even when they slept together in the elevator and he cheated on his fiancée with her, he was still a jerk and made it sound like it was just because she was dressed like Madeline in the Season 4 finale. It's not clear anymore whether Mindy is her best self around him or she's not herself at all.
Mindy Kaling told Entertainment Weekly that figuring out where her character ends up has been tough for her and the writers:
The final season is the final time — it's the best time — to confront what that reality is for her. And really, we've put her through the ringer. It's hard. I'm a romantic at heart. I believe that marriage is like, a sacred relationship, and I really like it, but I'm also single myself, so I see every side of it. It's going to be really fun to explore.
She's been married, divorced, and heartbroken. Either Mindy and Danny will decide to work something out and end up together or agree to be the best of friends, co-parent, and take care of his mother, Annette, together. If that's the case, then Mindy, the character, will be a little more like the IRL Mindy, which is sort of badass, too. Not ending up with Danny is also a happy ending.
Life isn't a movie or a rom-com, so it feels right that Mindy would just keep trucking on as a single mom and keep running her practice. Then again, Danny's always been hard for her to resist throughout the series, so if they end up making out in the series finale, I won't be too surprised.
Check out Romper's new video series, Romper's Doula Diaries:
Watch full episodes of Romper's Doula Diaries on Facebook Watch.