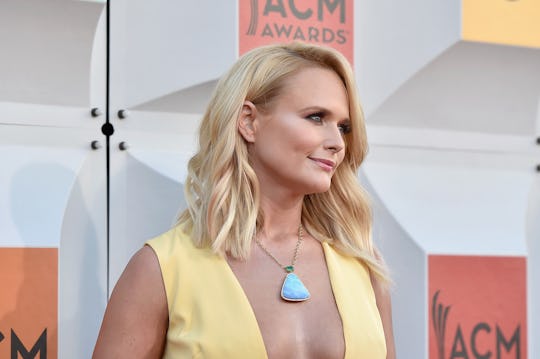 David Becker/Getty Images Entertainment/Getty Images
Do Miranda Lambert & Gwen Stefani Get Along? They're Too Busy To Bother With Drama
Country star and The Voice judge Blake Shelton helped kick off the ACM Awards on Sunday evening with a bang, crooning his hit song "Came Here to Forget" in front of the massive crowd inside the MGM Grand Garden Arena. While Shelton's performance was received with raucous applause, there was at least one person in the audience that may not have been as pleased with the performance as everyone else — ex-wife and fellow country star Miranda Lambert. With rumors flying that "Came Here to Forget" was actually written about Shelton's current girlfriend Gwen Stefani, fans were left wondering whether Lambert and Stefani get along in real life or whether the performance had only added fuel to an already raging fire.
The answer? It probably doesn't matter. In fact, both Lambert and Stefani are so busy with their own respective careers that they've likely never had the chance to sit down and actually hash anything out (not that they need to... they are grown women with other issues to handle in life, after all).
Still, if you're dying to know whether the two talented songstresses get along in real life, look no further than a January report by E! News, which claimed that Stefani and Lambert were on good terms, despite the tabloid-generated controversy. "Gwen and Miranda are actually big fans of each others' music and respect each other as artists," E! cited an anonymous source as saying. "Miranda has always thought very highly of Gwen and thinks she is an extremely talented artist."
And what about Shelton? Does Lambert harbor any negative feelings for her ex? According to that same anonymous source, "Miranda is happy that they are doing well and wishes the best" for Shelton and Stefani, who were first spotted together in 2015. "Miranda is happy that they are doing well and wishes the best for them," the source told E!. "[She's] focusing on herself and enjoying her new relationship [with R&B musician Anderson East.]"
When the two women aren't busy reassuring the public that they're not mortal enemies (seriously, can we all stop assuming this in the future, guys? It's 2016), they're both caught up in their whirlwind careers: Stefani as a spokesperson for L'Oréal Paris, a part-time judge on The Voice with Shelton, and promoting her latest album This Is What the Truth Feels Like; Lambert similarly promoting her fifth studio album Platinum and working in partnership with Chrysler Ram trucks and Lambert's Muttnation Foundation, which helps shelter animals find a better life.
At the ACMs on Sunday, Lambert also delivered one seriously kickass performance of the 1975 ZZ Top classic, "Tush", with Keith Urban and ZZ Top's own Billy Gibbons.
So while a lady rivalry might make for interesting headlines and water-cooler chatter, it seems both Lambert and Stefani are too busy being, you know, grown-ups and major career successes to actually give a damn.