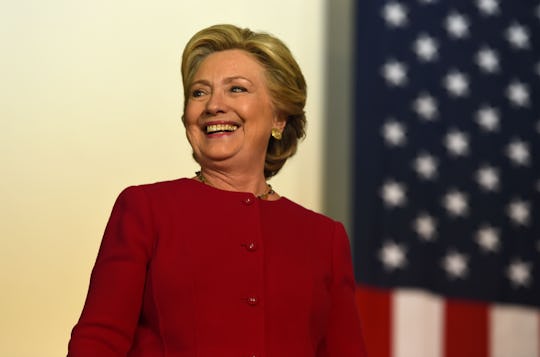 ROBYN BECK/AFP/Getty Images
Do Nasty Woman T-Shirts Support Hillary Clinton's Campaign? Some Of Them Do
When Donald Trump interrupted Hillary Clinton at the third presidential debate to mutter that she was "such a nasty woman," he could not have known that his insult would become a rallying cry for women across the country. Feminists tired of his misogynistic remarks reclaimed the insult with glee, even making T-shirts to wear their nasty womanhood with pride. But as various "Nasty Woman" T-shirts pop up for sale, many are wondering, do "Nasty Woman" T-shirts support Hillary Clinton's campaign? Definitely not all of them do, at least not monetarily.
Still, even if not all of the shirt-makers donate proceeds directly to the Clinton campaign, they contribute in other ways, like by raising awareness and advertising support for a candidate about whom many fans have often been less than vocal. During the Democratic primary, many Clinton supporters I knew refrained from posting about her too often, while Bernie Bros blew up my Facebook feed. And now that we're into the general, so much attention seems to be focused on preventing Trump from gaining power, rather than on electing an experienced, history-making woman.
To that end, any wearing of a "Nasty Woman" T-shirt helps, although some, like the T-shirts listed below, also send proceeds to a worthy political cause.
Planned Parenthood
Planned Parenthood is a favorite cause of many of the "Nasty Woman" T-shirt makers. Katy Perry showed up to campaign for Clinton at the University of Nevada, Las Vegas, in a "Nasty Woman" T-shirt made by Google Ghost, which says that 50 percent of the proceeds it makes from selling the shirts will be sent to the beleaguered women's health provider. (But be warned if you order—the shirts have proved so popular that you may have to be a little patient!)
Likewise, Samantha Bee debuted a "Nasty Woman" shirt of her own on a recent episode of Full Frontal. And if you want to be like Bee (who doesn't?), the proceeds from your purchase will help support the Planned Parenthood Advocacy Project in Los Angeles County. Win win!
For every purchase of this design, the designer will send $1 to Planned Parenthood:
The Clinton Campaign
As for which actually benefit the Clinton campaign directly, this "Nastee" shirt's description says that a portion of the designer's proceeds will be donated to the campaign. However, it's proved so popular that it seems to have sold out. Still, you can add your name to the list on the website to know right away when a new round is available.
And if you'd rather keep looking for the perfect design, there are plenty of other options out there to display your Nasty Woman pride. Happy shopping, and happy voting!