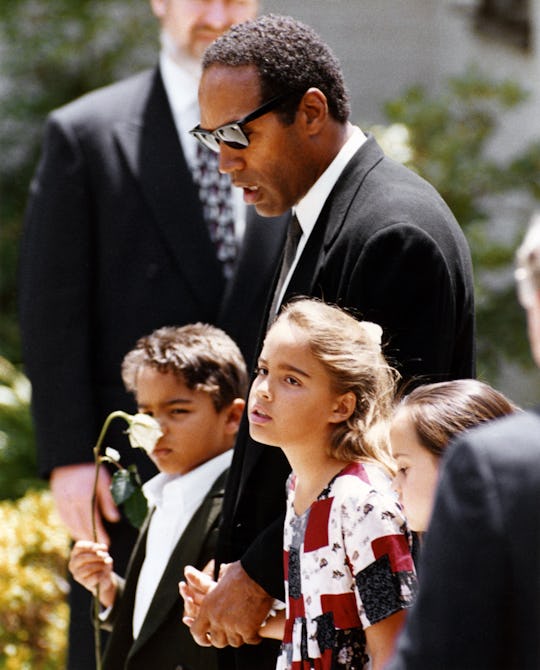 The LIFE PIcture Collection/Getty Images
Do OJ Simpson's Kids Think He Killed Nicole Brown and Ronald Goldman? They Definitely Have An Opinion
As the release date for American Crime Story: The People v. O.J. Simpson draws nearer, interest is piquing once again in one of the most publicized murder trials in the United States. When Nicole Brown Simpson was killed in 1994, her two children with ex-husband O.J. Simpson, Sydney and Justin, were only 8 and 5 years old. Much of the world has speculated as to whether Simpson's acquittal was deserved or if the football player actually did it — but Sydney and Justin have remained entirely quiet on the issue. Their aunt, Tanya Brown, recently spoke to Radar about whether O.J. Simpson's kids think he killed Nicole Brown Simpson. Simpson's current legal team hasn't responded to Romper's request for comment regarding his alleged involvement in Brown Simpson's murder.
Brown told Radar it's not a topic she discusses with her sister's children. "It's the pink elephant in the room that I hope never shows up. We don't talk about it. ... They've probably talked about it on their own. But when they come to our house we have fun. We don't need to rehash everything."
According to Inquisitr, Sydney Simpson's ex-boyfriend Stuart Alexander Lee has also spoken out about Simpson's relationship with his children. "He's a good father from behind bars. They all still love him very much. They go out and visit him, and he calls them all the time and they talk together all the time. He's a father. He's a good guy. I don't think he did it," Lee reportedly told Radar.
Lee said Sydney and Justin believe in their father's innocence. "They speculate that it was a drug deal gone bad. May she rest in peace, but [Nicole's] throat was cut like a Colombian necktie. Sydney doesn't believe O.J. did it, but she doesn't know what to believe. The media changes, and how the police changed the whole situation… Either way, her mother died."
American Crime Story: The People v. O.J. Simpson executive producer Brad Simpson told People, "We used Jeffrey Toobin's 1996 book The Run of His Life: The People v. O.J. Simpson and court transcripts as our guide." The series steered clear of reaching out to the victims' families — who "have wounds that will never heal" — and anyone else involved in the case out of respect.
Whether Simpson's kids believe he is guilty or innocent should probably remain private. Yes, it was a highly publicized case, and humans are always drawn to anything that has an "unsolved mystery" air to it. However, the Simpson kids not only had to watch the same trial intricacies go down (just as the general public did), but they had to endure the death of their mother and claims that their father was behind her murder. That's not something the rest of us can even come close to imagining, and whatever peace they've made with that history is their choice. "[Justin and Sydney] will always love their dad," Tanya Brown said. "I choose to respect that."
And so should anyone who becomes obsessed with the series.