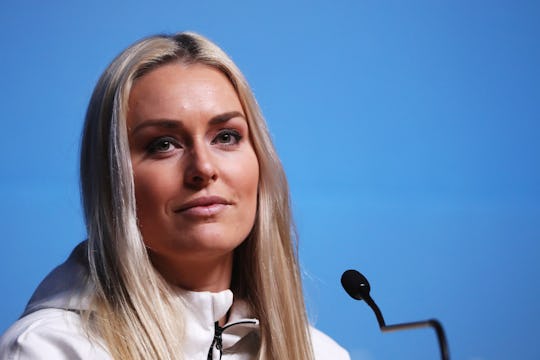 Ker Robertson/Getty Images Sport/Getty Images
This Is How Olympians Eat While Competing In The Winter Games
Olympic athletes are metabolic machines, churning mere calories into polished energy for incredible performances. But all that nutritional input has to come from somewhere. While most athletes will be feasting at the 24-hour dining halls in PyeongChang's two Olympic villages, some Olympians will be traveling with their own cooks to make sure they're getting expertly personalized meals and dietary advice.
One of those teams is the United States Ski and Snowboard team, who will be accompanied by two registered dieticians and chefs, according to Mic. They'll be cooking for the team's 109 athletes, who compete across seven different sports. The chefs' schedule is in some ways as grueling as the athletes' regimens: They'll be providing three meals a day from about 6 a.m. to 9 p.m. in the dedicated dining hall for the United States skiers and snowboarders (who will still have the option of eating in the regular dining halls with their fellow Olympians).
Their menus for this year's games feature American staples — burrito bowls, roasted chicken, and meatball subs — as well as some slightly more adventurous dishes like miso-ginger salmon and teriyaki stir-fry, reported ABC News. The chefs also make sure there's always a salad and sandwich bar and a pasta option. They even work with each person to create a diet personalized for their training and performance requirements, as revealed to ABC. That's especially handy for athletes with dietary restrictions, like four-time Olympic alpine skier Resi Stiegler, who has celiac disease. Traveling with team chefs means she doesn't have to worry about planning ahead or checking ingredient lists.
But just because the food is custom-made doesn't mean it's everyone's cup of tea. When she noticed that some athletes were picking out the protein and tossing the rest of their meal, Chef Megan Chacosky found workarounds to get her Olympians to eat their veggies. "I've learned to outsmart them a little bit and make sure I've got vegetables in everything, so they have to eat it anyway," she told Mic.
Adding to the challenge for picky eaters is the fact that Chacosky's custom meals will have to be made with local ingredients: The United States Ski and Snowboard team will be getting its groceries from local suppliers like Costco. So, over the summer, Chacosky began introducing the Olympians to Korean flavors and ingredients. That means they'll have already sampled everything that she'll serve them during the games - and they'll know that there aren't any ingredients that might upset their digestion.
The 109-person Norwegian Winter Olympics team, which also travels with its own cooks, has had a bit more difficulty when it comes to navigating local suppliers. With the help of Google Translate, their chefs recently placed an order for what they thought was 1,500 eggs. But they had actually ordered 15,000 eggs, and only realized the error when the cartons just kept coming, according to HuffPost. (Fortunately, they were able to return the extras.)
With or without personal cooks, you might think that athletes would have trained themselves to eat as well as they compete, fine-tuning their nutritional and caloric input to optimize their performance. Not so much. At the 2016 Olympic Games in Rio de Janeiro, athletes were so enthusiastic about the free McDonald's that the restaurant had to start imposing limits. Competitors' orders were of such Olympic proportions that McDonald's couldn't keep up, and had to restrict each order to 20 items.
And what about athletes who don't have team chefs to help them acclimate to the local cuisine? The PyeongChang Organizing Committee has their back. Since about 50 percent of participants and officials will be coming from Europe, the Olympic Village's cafeteria will be importing European ingredients such as pasta, and will have a European cook on staff. They'll also be catering to the many different kinds of Asian food that athletes will expect. In addition to an expansive menu of "K-Food" and local specialties, there will be a balance of Japanese, Chinese, and other Asian cuisines.
Check out Romper's new video series, Bearing The Motherload, where disagreeing parents from different sides of an issue sit down with a mediator and talk about how to support (and not judge) each other's parenting perspectives. New episodes air Mondays on Facebook.