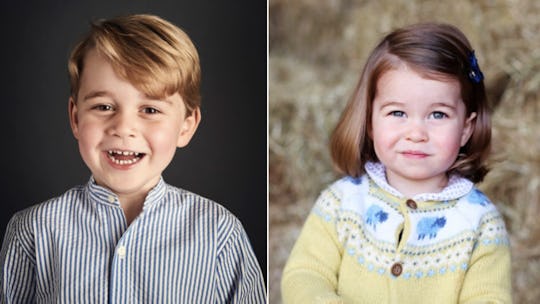 Handout/Getty Images Entertainment/Getty Images
Here's When You'll See Prince George & Princess Charlotte Bowing & Curtsying In Public
You definitely don't have to be an expert on the monarchy to know that Prince George and Princess Charlotte are already major royal power players. Having both made their public debut on the steps of the Lindo Wing in front of large crowds following their respective births, the elder children of the Duke and Duchess of Cambridge are used to being the center of attention while in public, and have already begun taking on some royal duties, like joining their parents on royal tours. But what about some of those specific royal formalities? For example, do Prince George and Princess Charlotte bow to the Queen or do they get a pass?
Even though, at third and fourth in line to the British throne, Prince George and Princess Charlotte are high-ranking royals, Queen Elizabeth II, as both matriarch and monarch, is definitely the boss. So while they may not have to bow and curtsy to many people in their lives (and while certainly there are plenty of people who will eventually have to bow and curtsy to them!), they will soon be expected to publicly show their respect to the Queen — if they haven't started to already.
The official protocol, according to Buckingham Palace, is that bowing and curtsying when meeting the Queen or another royal is entirely optional, though when the royals are seen out in public, it's clear that they've chosen to participate in the traditional custom. And while the actual rules about who is meant to bow and curtsy to whom can get a bit confusing, there's at least one pretty straightforward rule when it comes to the Cambridge children. According to Hello!, now that he's turned 5, it's expected that Prince George will bow to the Queen, while Princess Charlotte and Prince Louis will also curtsy and bow once they're old enough.
Although the world has yet to see Prince George actually follow this protocol in public, historian and royal expert Marlene Eilers Koenig told the magazine that the future heir to the British throne has likely already begun bowing to the Queen when he sees her, following in the footsteps of his parents and relatives, who all do the same. In public, all royals, regardless of rank, bow or curtsy to the Queen if it's the first time they've greeted her that day (Princess Beatrice, for one, recently came under fire for "forgetting" to curtsy to her grandmother, though it's likely that she had already done so earlier in the day, according to Royal Central), and there's no reason to expect it will be any different for her great-grandchildren.
One element that's less clear though, is whether or not the other royals are required to bow and curtsy to each other. Koenig, for one, claimed that "a royal highness does not curtsy to another royal highness," according to Hello!, though other reports have said it all depends on rank — and if you've married into the family, it also depends on whether or not your spouse is in the room.
Following the Duke and Duchess of Cambridge's 2011 wedding, the Queen reportedly updated the Order of Precedence in the Royal Household, which would determine the protocol around bowing and curtsying, according to The Telegraph, and it meant that the wives of royal men (like Catherine; Camila, the Duchess of Cornwall; Sophie, the Countess of Wessex; and now Meghan, the Duchess of Sussex) should curtsy to "blood princesses" (like the Queen's daughter, Princess Anne; the Queen's granddaughters, Princesses Beatrice and Eugenie; and the Queen's cousin, Princess Alexandra). The one major exception? If the the ladies' husbands are also present, they would then assume their royal rank, meaning that the princesses would then actually have to curtsy to them.
What do the royal rules mean for Prince George and Princess Charlotte specifically? Given their places in the royal line of succession, the two will likely be expected to also bow and curtsy to their great-grandfather, Philip, the Duke of Edinburgh; and their grandparents, Charles the Prince of Wales, and his wife the Duchess of Cornwall. It's also possible they may be expected to bow and curtsy to their parents (though Princes William and Prince Harry mostly seem to greet their father with a kiss on the cheek), although when Prince William ascends to the throne one day, his children will certainly bow and curtsy to him, just as everyone does to the Queen. And when Prince George is one day the one sitting on the throne? Both Princess Charlotte and Prince Louis will be bowing and curtsying to him.
The rules are kind of difficult to keep straight, and honestly, if I were a young royal, I'd probably just curtsy to all of my relatives just to be safe. But while the protocol might seem strange or even pointless to some people, it's a pretty big deal for the family. The upside? If Princess Charlotte's tiny curtsies are any indication, the young royals' public appearances are just going to get way cuter when they start showing off their formal greetings.