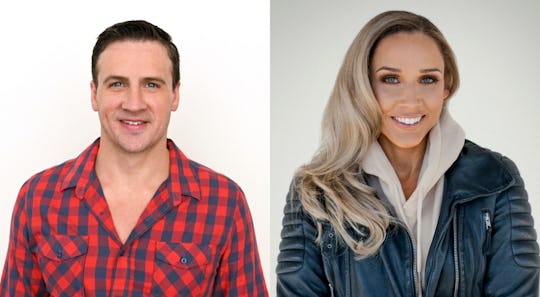 CBS
Ryan Lochte & Lolo Jones' Past Could Help Or Hurt Them 'Celebrity Big Brother'
It's time for Celebrity Big Brother Season 2, featuring actors, entrepreneurs, and athletes. As for that last category, there are three contestants that fit the bill: NFL Hall-of-Famer Ricky Williams, swimmer and former bad boy Ryan Lochte, and track star Lolo Jones. Of them, the latter two both have competed in the Olympics. Wait a minute — does that mean Ryan Lochte and Lolo Jones know each other?
The answer, it turns out, is a resounding yes. I've got the proof for you right here. But it's not all that surprising: Despite there being a lot of athletes at the Olympic level, they really all do seem to interact. You probably know a lot about Lochte, who has earned an impressive 12 Olympic medals as a swimmer for the U.S. Men's team, only coming second to that other well-known swimmer hottie, Michael Phelps.
Meanwhile, Jones has pulled off her own incredible feats: She is one of very few athletes has competed in both the Summer and Winter Olympic games. In addition to being a record-holding hurdler who competed in the 2008 Beijing games, Jones is on the U.S. national bobsled team, and she was the "brakewoman" at the 2014 games in Sochi. Though she didn't actually compete in Rio in 2016, she did hang out with a few of her fellow athletes during training, which resulted in this shot right here:
There it is, photo evidence that Jones and Lochte knew one another before entering the Celebrity Big Brother house. This could definitely lead to an alliance, I'm calling it now. Both seem to have a pretty good sense of humor, so if nothing else, they'll likely end up messing with each other in a lighthearted way, as Jones did once in this interview back in 2016:
So where do the two stand these days? They haven't had any reason to really spend any time together for the cast couple of years. Jones hasn't competed athletically since 2015. She's been making the reality TV circuit though: She was on Season 19 of Dancing With the Stars and was a part of The Challenge: Champs vs. Pros in 2017. These days, she's known for cracking jokes and spending a good bit of time on social media.
Her epic Twitter following aside, it's pretty obvious what the attention she gets on the show will be about. Jones is a Christian, and is often asked to talk about her choice to not have sex before marriage. That's going to make the "hookup culture" of Celebrity Big Brother interesting, to say the least.
As for Lochte, he's spent a bit more time in the public eye in a negative fashion. In 2018, Lochte's alcohol addiction came to light, after years of wearing his "party boy" badge proudly. But he's not letting that define him.
Things have calmed down on all fronts for him over the last few years: He got married and has a son, with a daughter on the way. This seems like a strange time for a family man who is still in training for the next Olympic trials to take on this kind of challenge, but for Lochte, maybe it's a way to shed his image. Whatever the reason, at least he'll have his old friend Jones there to help him out — or tear him down.