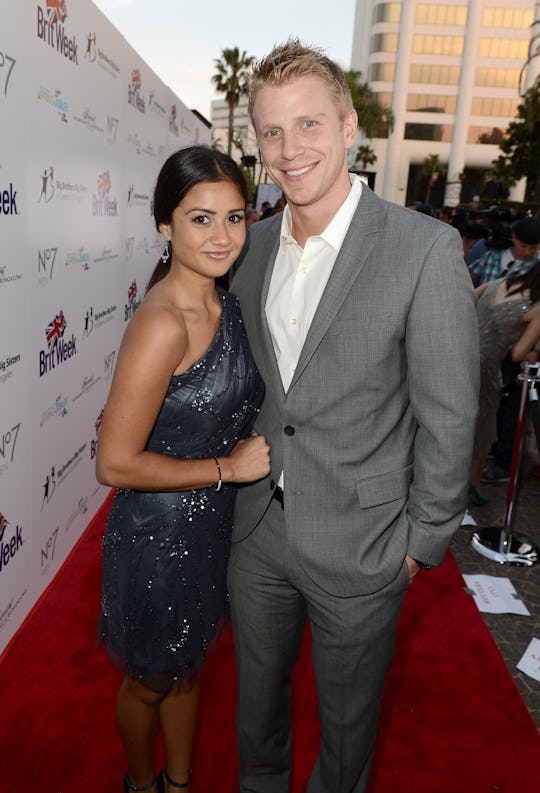 Kevin Winter/Getty Images Entertainment/Getty Images
Here's The Sweet Reason Why Sean Lowe & Catherine Giudici Want More Kids
To Bachelor fans' delight, Catherine Giudici and Sean Lowe welcomed their second child, a boy named Isaiah Hendrix Lowe, on May 18. There's no doubt the new parents are thrilled about their growing brood, and Isaiah's older brother, Samuel Lowe, is equally as enthusiastic about the new addition. And considering the two seem to have this whole parenting thing on lock, it's fair for #BachelorNation to wonder if Sean Lowe and Catherine Giudici want more kids. Well, get excited Bachelor fans because Lowe and Giudici plan to extend their family one more time. In a sweet twist, the parents want a little girl to complete their family.
Many fans of Giudici and Lowe probably already know that they kept the sex of baby number two a surprise. Although Giudici had a "gut feeling" that she was pregnant with a boy, according to People, Lowe suspected the couple would have a girl.
"I see this face and now I'm starting to lean towards a girl," Lowe theorized based on a sonogram of the pair's unborn child, according to People. "I think I'm changing my mind. I'm going to bet on girl. I'll be happy either way. I think Catherine thinks it's a boy, but that's maybe because we already have a boy. We'll see!"
Well, Giudici's gut feeling was right. On May 18, Giudici and Lowe welcomed their second son into the world. "Introducing Samuel Thomas' little brother, Isaiah Hendrix," Catherine captioned the first shot of Isaiah, according to Instagram. Aww.
Although it would be totally fine for Lowe and Giudici to put a cap on their brood with little Isaiah, they're open to trying for baby number three for this adorable reason.
"I love having two kids. It's nice because with two kids you don't stretch yourself too thin," Lowe explained, according to Us Weekly. "You can show up at all the baseball games and dance recitals and things like that. But I would like to try to see if we could get a little girl that looks like mama."
How cute. It's sweet that Lowe wants a mini-Giudici running around the house one day.
Giudici is on board with Lowe's desire for another kid, and she's open to the possibility of adoption. "I'm the person that wants a soccer team as a family and have a compound and everyone sleeping together in bunk beds and all that stuff," Giudici joked, according to ET Online. "So yeah, there will definitely be more… I think five. Three natural and two adopted. That's my vision."
If Lowe and Giudici do decide to give parenthood a go for the third time, there's no doubt in my mind that they'd be able to handle the challenge of a full house. As it turns out, the two are incredibly supportive of one another as parents.
"I think Catherine does a great job of trying to be the best wife and mother she can be," Lowe said about the couple's co-parenting relationship, according to Yahoo Finance. "That puts the pressure on me and I feel like I need to help her out as much as I can, too, because I need to reciprocate that."
Although i'm not sure if "help" is the right word to describe the Lowe's role as a dad, I don't think he meant to imply that dads simply "help" moms. My takeaway is that Lowe intended to highlight how he and Giudici work together as a team. "It's really nice to have a partner," Giudici confirmed about the pair's relationship, according to ET Online.
So, here's to looking forward to Giudici's third pregnancy or the couple's first adoption. Giudici and Lowe are great parents, and fans can't wait to see their family grow even more.