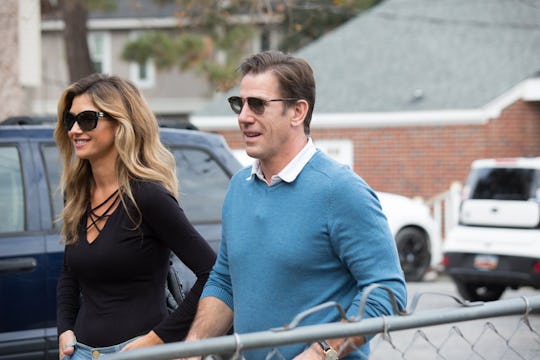 Paul Cheney/Bravo
The 'Southern Charm' Cast Talked About Thomas At The Reunion
Thomas Ravenel was absent from the Southern Charm Season 5 reunion, but he was still a topic of conversation among the remaining cast. Thomas, along with Bravo, had come to the mutual decision that he should skip the reunion because of an ongoing investigation into two sexual assault allegations raised against him. Almost everyone in the cast was prepared to talk about Thomas, but do the Southern Charm stars still talk to Thomas Ravenel? Has everything that happened — onscreen and off — caused anyone to cut ties?
Some cast members do still speak to him. Kathryn Dennis only recently regained 50/50 custody of the two children she shares with Thomas, so she must continue to co-parent with him. At the reunion, she explained that they have been spending time together with their kids. But it was because of her kids that Kathryn chose not to discuss the allegations until the investigation was complete. "I'm not going to comment until it's resolved," she said. "What I am going to focus on is just the children and staying out of it."
As for the investigation, Andy Cohen read aloud a statement from Thomas at the start of the night. It said:
Along with Bravo our client made the mutual decision not to attend today's reunion taping as there is a pending investigation. Our client is fully cooperating with authorities with that investigation. He expects to be fully exonerated once that investigation is concluded. He sends his regards to his fans and his cast mates.
Despite everyone being asked their opinion on Thomas, not many members of the cast offered an update on their current friendship status. Both Craig Conover and Naomie Olindo chose to stay out of it at the reunion, though Naomie made a point of saying that Thomas had always been nice to her (okay?). Shep Rose said that 90 percent of the time Thomas had a lot of positive qualities, but he could be "volatile" too.
If Shep is still expressing some level of affection for Thomas, then one could assume that they are still on good terms. It's hard to say if they're going to be brunch buddies or anything — social media doesn't paint a clear picture of how much they're in each other's lives — but Shep hasn't outright denounced Thomas. And Ashley Jacobs is still seeing Thomas, so it would appear that she remains supportive of him as well.
But that isn't true of everyone. Cameran Eubanks had one of the more emotional moments in the Season 5 reunion when she apologized to Kathryn for years of insults. She saw Kathryn as a victim of Thomas' manipulations and had new empathy for what she'd been through after having a child of her own. Cameran also thought it was good that Thomas was not at the reunion, so it doesn't seem like she's on his team at all. But again, it's uncertain whether they still talk or not and, if they do, to what extent.
Patricia Altschul appears to have fully cut ties with Thomas, blocking both him and Ashley on social media. On Hear Reality Checked with Amy Phillips, Patricia said she has had no communication with Thomas since the finale. She claimed that she disapproved of something he and Ashley did to somebody else, which was "being litigated" at the moment, though she did not say specifically who that someone was. The situation caused her to rethink everything and realize she had been cutting Thomas a lot of slack when she shouldn't have.
Patricia added that it was the same for Whitney Sudler-Smith; he was no longer speaking to Thomas either. It doesn't look like Whitney himself has officially commented, but his mom is probably a pretty reliable source of information.
It seems like many members of the Southern Charm cast are waiting to see what happens with the investigation before they make more definitive statements on Thomas and their relationship with him. Some, like Kathryn, have family ties with Thomas, or friendships that run deep; others have put some distance between themselves and Thomas for the foreseeable future.