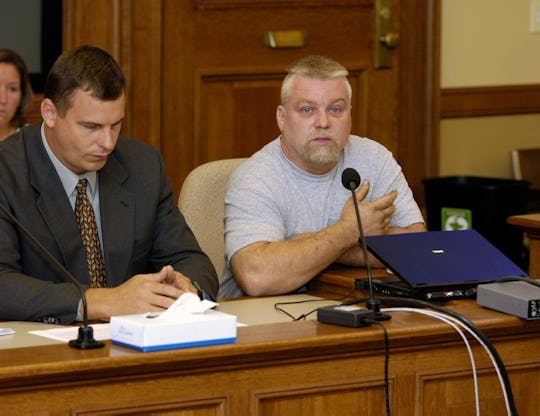 Netflix
Do Steven Avery's Children Think He's Innocent? These Key Points In The True-Crime Saga Offer Some Clues
Steven Avery's murder case has captured the attention of millions, due to the blockbuster success of the documentary Making A Murderer on Netflix. Debates over Avery's guilt or innocence have dominated the media since the 10 part series debuted in mid-December. But while hundreds of thousands of supporters have weighed in with support for a new trial — or even release — for Avery, silence from some key figures continues to plague followers of the case. Whether Steven Avery's children think he's innocent or guilty is one of the crucial — and so far, unanswered — questions of this true-crime saga.
Steven Avery raised five children with his ex-wife Lori: her son Jason and their other children, Rachel, Jenny, Steven Jr., and William. But the series also makes it clear that Avery's relationship with his children was one of the earliest casualties of Avery's wrongful conviction for a brutal sexual assault in 1985. Three years later, the couple went through an acrimonious divorce while Avery was serving 18 years in prison for the rape of Milwaukee Magazine reported that Avery lost all contact with his children after the divorce.
Whether the Avery children believe Steven is innocent or guilty remains a mystery. But, the breakout success of Making a Murderer offers a few insights into how the Avery children might see the allegations against their father.
None Of The Avery Children Participated In The Series
Documentarians spent more than 10 years working on the project, and much of that time was spent working extensively with members of the Avery family. But none of the Avery children were involved in making the series. The filmmakers, Moira Demos and Laura Ricciardi, told Vulture magazine that understanding the family story was key to reporting Avery's experience:
We were really impressed with how open the Averys were to meeting us. They heard us out about who were were and what we were were doing and why we were interested in their story. It's very much Steven's story, but it's also a family's story. It's clear that when someone is wrongfully imprisoned, not only that person but all their loved ones endure it as well.
They've Been Silent In The Weeks Since The Series Aired
It's been thirty years since their father was first sent to prison, so even the youngest of the Avery children is now an adult. While it's impossible to speculate whether they've watched the Netflix series, it's probably safe to assume they are aware of the national spotlight on the Avery case and the thousands of people clamoring for their father's release from prison.
By staying silent in the media maelstrom, the Avery children are actually making a pretty powerful statement. It could be that they simply want to stay out of the fray. Or, they may believe that Steven Avery is exactly where he belongs.
...Even Though Other Family Members Have Come Forward With Their Views
Avery's parents, Dolores and Allan Avery, feature prominently in Making a Murderer and his mother has been one of his most vocal supporters. Speaking to the Daily Mail in early January, Dolores Avery said her son was "100 percent innocent" in the case. Avery's cousin, Kim Ducat, told local television station WLUK that the Making A Murderer had given the family "renewed hope" in the case, and should help to secure a new trial.
If the Avery children wanted to come forward with beliefs in Avery's innocence, they certainly wouldn't be alone in the media spotlight.
The Avery Children Don't Visit Steven In Prison
This might be the most telling clue into how the Avery children perceive the accusations against their father. It seems reasonable that, even if his children weren't interested in taking part in the high-profile documentary, if they believed him innocent, they might visit him in prison, or appear on Avery's approved list of visitors. However, Avery's former fiancee Sandra Greenman told the Daily Mail that while Avery is allowed as many as twelve approved visitors in prison, his list of visitors is normally just herself and his parents, Dolores and Allan Avery.
The fact that Avery and his children have lost contact is truly one of the most heartbreaking aspects of the case. The Avery children were forced to grow up without their father — and under a dark cloud of questions over his guilt or innocence. Thirty years after Avery was first convicted of rape, the entire nation is trying to figure out exactly who Steven Avery is. Sadly, that's a question his children might have been living with this entire time.
Images: Netflix screengrab (3)