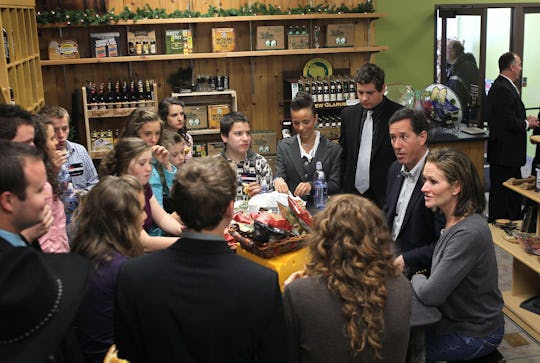 Scott Olson/Getty Images News/Getty Images
Here's The Deal With The Duggar Family & Pets
If you're a family and you have your own reality television show, odds are that it's because there's something a bit intriguing about you and your family. So, considering the fact that the stars of 19 Kids & Counting and Counting On are known for their strict rules, wondering whether the Duggars have pets is one of those totally valid questions fans have about their lifestyles.
Short answer? It's complicated. The Duggar family may have plenty of little feet running around their home, but there aren't really a lot of paws present. In an interview with HuffPost, Jim Bob Duggar — the patriarch of the famous family — explained that at the beginning of his marriage to Michelle, they banned pets from their household. "I grew up watching TV, but when we got married a doctor friend of ours encouraged us not to have a pet or a TV the first year of marriage," he explained to HuffPost. "So we did that. For the first year we lived on love."
Jim Bob then went on to explain that they eventually got a TV and occasionally watch DVDs (but never broadcast television), but he didn't mention the pet thing again, which is kind of confusing. On several episodes of their show, 19 Kids & Counting, which is now off the air, viewers were able to see the family enjoy playing with cats and dogs.
But, usually when the kids are seen with a dog, it belongs to a friend. And as far as the cats go, the family actually did take in a litter of kittens back in 2012 after a mother cat couldn't get back to them due to their tricky location, which Michelle explained on her blog on the TLC website. The Duggars were working on a construction project when they found the cats, and Michelle described why they decided to keep them:
The building was going to be secured before we left so we knew that the mother cat wouldn't be able to get back in, and we didn't want to leave the kittens out in the open because there are wild animals near the woods that might've eaten them. And even if they did survive we were pretty sure that they would become feral. So we decided to bring them home where we have two older kittens.
While this is a sweet story, the family has also had some controversy when it comes to animals. Sure, many a joke has been made about the family breeding like rabbits, but a more pertinent problem had allegedly presented itself a few years back. As BuzzFeed reported back in 2015, Derrick Dillard, who is married to one of the older Duggar daughters, Jill, posted a video to his Instagram of him allegedly trying to "sled over a cat."
Although Dillard's post has now been deleted, BuzzFeed reported that it allegedly depicted him running over a cat in the snow with his sled. "Dillard posted the video March 1 of them enjoying a day in the snow, where he appears to sled intentionally into a cat while the family cheers him on," according to BuzzFeed. The outlet also reported that there were voices in the background of the video exclaiming, "Push him, push him, push him!"
Romper's request for comment on the alleged incident regarding Dillard was not immediately returned.
Although it might seem strange to some people that such a large family doesn't have a bunch of furry friends by their side, keeping track of 19 kids and a handful of grandkids is certainly a big responsibility and enough to keep their family fully entertained.
Check out Romper's new video series, Romper's Doula Diaries:
Watch full episodes of Romper's Doula Diaries on Facebook Watch.