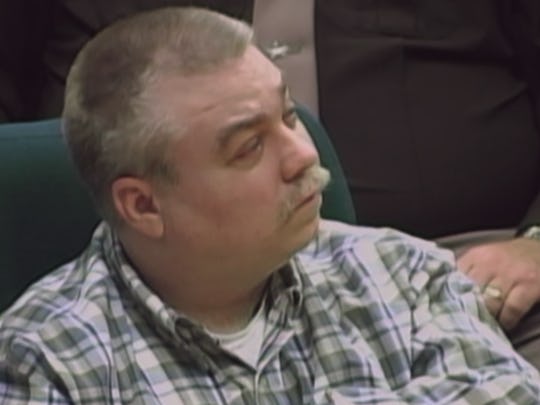 Making a Murderer/Netflix
Do The 'Making A Murderer' Creators Believe Steven Avery Is Guilty? They Have Finally Spoken Up
There is definitely no shortage of opinions when it comes to Steven Avery and Making a Murderer, the Netflix documentary that sparked national interest in what had previously been a local case in Wisconsin, Avery's home state. It seems like everyone these days has a theory about whether or not Avery is guilty of photographer Teresa Halbach's murder, spawning seemingly-endless media coverage, petitions, and crowdfunding sites dedicated to learning more about the case and possibly helping Avery get exonerated. But do the Making A Murderer creators believe Steven Avery is guilty? While they have largely remained mum, documentary filmmakers Laura Ricciardi and Moira Demos appeared on The Late Show with Stephen Colbert this week to discuss the Avery case — one that they spent a decade researching. And their verdict? According to WTMJ-TV Milwaukee, they don't believe he's guilty beyond a reasonable doubt, and, interestingly, they don't believe the documentary is even about whether he's guilty or not.
Thanks to the runaway success of their documentary, Ricciardi and Demos have come under fire by some critics who argue that their coverage was one-sided, designed to portray Avery in a more favorable light than he actually deserved. The filmmakers were initially hesitant to offer their opinions about whether they think Avery committed the crime he was convicted of, but when asked by Colbert during their appearance, they admitted that they both believed Avery should have been found not guilty, according to a YouTube video of the show:
My personal opinion is that the state did not meet its burden in Steven Avery's case or in Brendan Dassey's case, so I would say, in my opinion, not guilty.
Demos agreed:
There are things that [suggest] he could be guilty, but is he guilty beyond a reasonable doubt? Nothing I've seen — and I've seen a lot of stuff — nothing I've seen has convinced me of that.
But despite their personal take on the situation, Demos and Ricciardi argued that the the documentary's takeaway is not whether Avery is guilty or not, but about what they consider to be the failing of the American justice system when it comes to people who don't have the means or the support to be defended sufficiently when charges are laid against them.
"This can happen to any one of us," Demos said, "and good luck if it happens."
Ricciardi agreed, and emphasized that the point of the documentary was to encourage viewers to challenge their own assumptions during high-profile trials, according to video:
What we hope to achieve by sharing this story with as many people as we can is really to try to engage Americans, and for people to feel a sense of responsibility and to understand their own agency here. For instance, if we see someone in a perp walk on television we can check ourselves and try to reserve judgement about that person because at that point that person stands as an accused, has not been proven guilty.
Ricciardi and Demos reiterated their opinions Sunday, at the Television Critics Association press tour's Making A Murderer panel in Pasadena, California, according to Variety. Ricciardi said the show tries to present a theme that's much larger than just Avery's case:
My main takeaway is that each and every one of us is entitled to justice. Each and every accused, regardless of how they've been characterized or demonized, is entitled to justice.
Image: Making a Murderer/Netflix