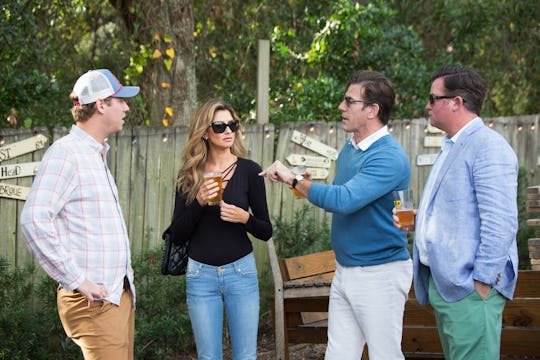 Paul Cheney/Bravo
Ashley Jacobs Is A Polarizing Figure On 'Southern Charm'
Ashley Jacobs was a new addition to the Southern Charm cast in Season 5. She'd recently relocated to Charleston from L.A. to get closer to boyfriend Thomas Ravenel and start their life together. She immediately came into conflict with Thomas' ex and the mother of his children, Kathryn Dennis. After their many, many fights, one can assume that Kathryn probably doesn't have the most positive opinion of Ashley. But do the other Southern Charm stars get along with Ashley?
For the most part, the answer seems to be a resounding no. While former co-star Landon Clements mentioned to People that Ashley had become a friend ahead of the Season 5 premiere, it looks like the events of the season have put distance between Ashley and everyone else. And a lot of that comes down to how she treats Kathryn and some of the insults Ashley has hurled at her.
Kathryn herself announced that she was done with Ashley during the Southern Charm After Show following the finale. Ashley had dismissively referred to Kathryn as an "egg donor," essentially trying to invalidate Kathryn's relationship with her own children. After losing custody of her two kids for a period of time, Kathryn worked hard to regain it, making the remarks particularly insensitive.
That was an opinion shared by Patricia Altshul, who tweeted that she thought Ashley's comments were "cruel and despicable." In fact, Patricia hasn't held back on Twitter at all: she revealed that shortly after the finale she stopped speaking to both Thomas and Ashley because of their behavior. And when asked by a fan if "anyone in America" likes Ashley, Patricia replied, simply, "No."
Other cast mates have expressed distaste with the things Ashley has said to Kathryn, especially her now-infamous tirade during a trip to Hilton Head. She claimed that she spent more time with Kathryn's children than Kathryn did and criticized her parenting. Craig Conover told Bravo that saying Ashley crossed a line "would be the understatement of the century."
Danni Baird and Naomie Olindo, who were sitting at the same table as Ashley and Kathryn when the altercation began, seemed to agree that it was a bridge too far. Danni said that she "felt sick to my stomach" and called Ashley's words "terrible." Naomie added, "What [Ashley] said was disgusting."
But it looks like Shep Rose might be friendly with Ashley. Reddit captured a screengrab from his Instagram stories a month ago in which he posed for a picture with Ashley, captioning it, "@msashjacobs pissed me off over 6 months ago. But she's cool with me. So be nice. #itsjustTV."
Cameran Eubanks didn't directly comment on Ashley at first, instead choosing to remain mostly neutral. She told People that her pregnancy kept her out of the fray during Season 5, but being a new mother gave her renewed empathy towards Kathryn. "I'm definitely more on Team Kat this year," she said. During the reunion, Cameran offered a more definitive opinion on Ashley: "Yeah, I think she's a horrible human being," Cameran said. "Horrible."
Austen Kroll didn't seem to be a fan of Ashley's, either. Though he found her likable at first, he told People that he soon noticed a change in her and began to think she was self-righteous. "It was like she thought that we should be vying for her friendship and not the other way around," Austen said. "I was like, 'Look, I don't need to vie for your friendship, it is what it is. If you don't want to be friends with me, I will survive. Trust me.'"
He later noted that she played the role of the villain "beautifully" on the show, so it seems safe to assume that Austen isn't pals with Ashley either. The newest member of the Southern Charm cast is certainly a polarizing figure, and it seems like there aren't many people interested in joining Team Ashley.