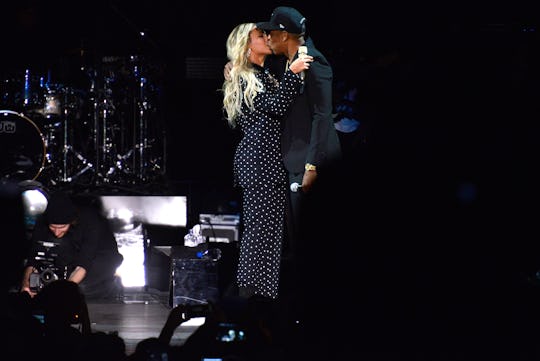 Duane Prokop/Getty Images Entertainment/Getty Images
Do Twins Run In Beyoncé's Family?
Queen Bey is having not one but two more babies! Beyoncé took to Instagram on Wednesday to announce she's having twins, leaving some to wonder do twins run in Beyonce's family? Although Beyoncé and her younger sister Solange look alike enough to be twins, they're actually not. Beyoncé is actually a whole five years older. Additionally, her sister hasn't had twins (yet) and only has one son, Daniel Julez Judo Smith.
On Jay Z's side of the family, he has three siblings, Andrea, Eric, and Michelle, however none of them are twins either. It's unknown if any of them have had twins because they stay out of the limelight, but from what I can tell, Beyoncé is bringing in the first set of twins on either side of the family. Honestly, it's not at all surprising that Beyoncé is once again the first to do something, even without having any control in the matter.
The record breaking Grammy winner, took to Instagram to share the good news, stating: "We would like to share our love and happiness," the caption read. "We have been blessed two times over. We are incredibly grateful that our family will be growing by two, and we thank you for your well wishes."
The message was signed off by "The Carters," and honestly this baby announcement is probably the greatest thing to happen so far this year.
The twins will be the younger siblings to the couple's first child, Blu Ivy Carter, who just turned 5 years old last month. It's uncertain how far along Beyoncé is, but she's already showing in the photo, which of course already has over a million likes. It's most likely that Beyoncé will be debuting her baby bump in person at the 2017 Grammy Awards, which will air live on Feb. 12 on CBS. The expecting mom is nominated for another nine awards this year and it'd be the perfect moment to show off her new bump, similar to how she did at the 2011 MTV Video Music Awards when she was pregnant with Blue Ivy.
Everyone knows Queen Bey loves to make a statement and while the Instagram post was a great, I can only imagine how she'll make her grand appearance at the Grammys with her bundles of joy in tow. I can't wait.
Either way, congrats to Beyoncé and Jay Z on the wonderful news!