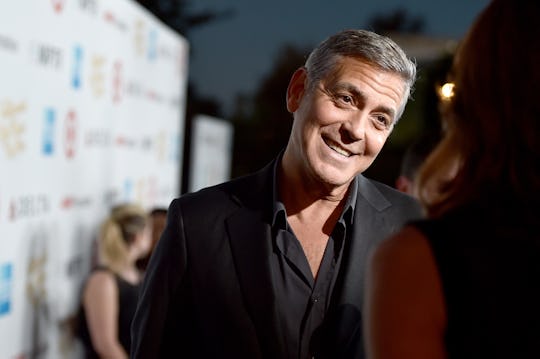 Alberto E. Rodriguez/Getty Images Entertainment/Getty Images
Do Twins Run In George Clooney's Family?
With the arrivals of both the Clooney twins and Beyoncé's bundles of joy right around the corner, the world is still wondering how it got so lucky with two pieces of wonderful baby news in such a short period of time. While the number of twin births in the United States has substantially spiked over the past three decades, it's still hard not to wonder if there's something in the water or if genetics is the answer for all these twins. Multiple births don't appear to be in Beyoncé or Amal Clooney's lineage, but do twins run in George Clooney's family?
Some detective work indicates that twins probably don't run in Clooney's immediate family. The 56-year-old actor only has one older sister named Adelia Zeidler, who goes by "Ada," and she's been far removed from the Hollywood scene, working in payroll in accounting in suburban Kentucky. She has two children herself, but they aren't twins.
While his father, famous journalist Nick Clooney, could have passed for his son's twin back in the day, the 83-year-old anchorman and television host is one of five children — none of whom are his twin. As for Clooney's mother, Nina Bruce Clooney, she's not a twin either and has two siblings.
But let's say Clooney does carry the twin gene somewhere within his family history; According to health and wellness site Verywell, it still wouldn't increase his chances of having twins. But he could pass it on to his daughter — his mother confirmed they are having "one of each," according to Vogue — and she could have a higher chance of having fraternal twins, if that's the case.
"Since only women ovulate, the connection is only valid on the mother's side of the family," according to Verywell. "While men can carry the gene and pass it on to their daughters, a family history of twins doesn't make them any more likely to have twins themselves."
There doesn't seem to be a connection to twins in Amal's family either, as she has one younger sister, Tala Alamuddin, and two half-brothers, Samer and Ziad Alamuddin, from her father's first marriage, who don't appear to be twins either.
While family history can play a role in whether someone has twins, other factors like the mom-to-be's age, weight, race, fertility treatments, and reproductive history could all increase your chances of having twins or multiples. So there are plenty of reasons that could explain why the Clooneys are expecting twins, but we won't know the details until (or if) they decide to address it themselves.